The employment outlook for athletic trainers is excellent—higher than the national average at 17 percent job growth over the next 10 years, according to the Bureau of Labor Statistics. Master of Science in Athletic Training program director Dr. Chase Hale says the occupation is thriving partly because it's becoming clear how important it is to have an athletic trainer in middle and high school settings.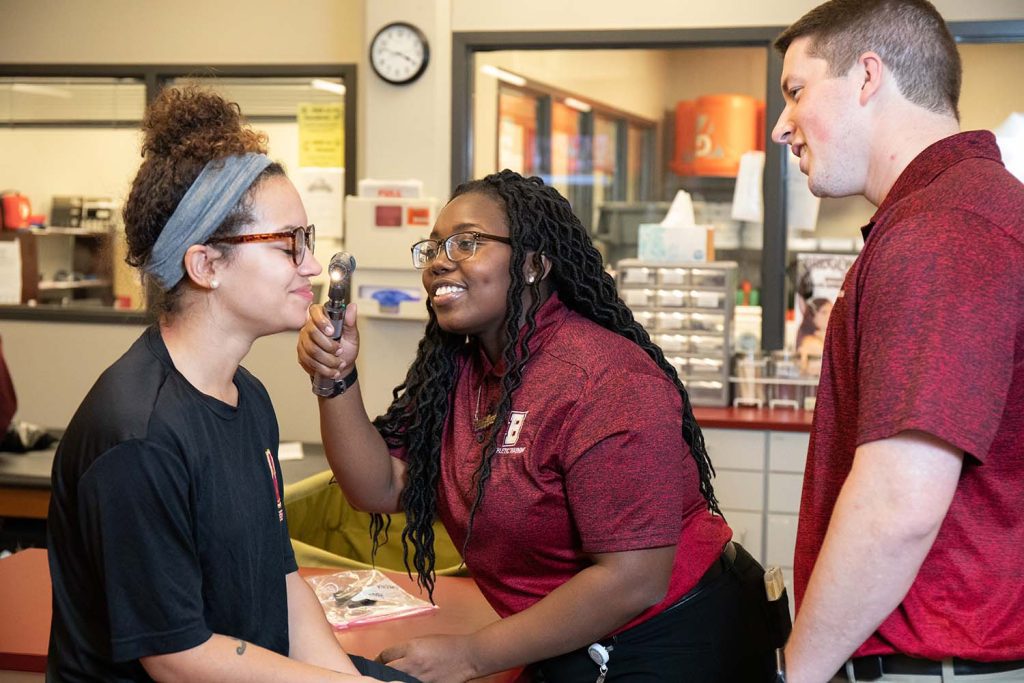 "It would be wise for all high schools and middle schools—anywhere where there are students involved in athletics—to have an athletic trainer," Hale says. "That is a huge advantage for the health and the safety of the student athletes."
Athletic training as a professional field gained traction post-World War II, when ATs began treating collegiate athletes. It has since trickled down to the high school level and, even more recently, middle school, as some counties in Virginia contract out through local clinics and hospitals to—at the very least—have an athletic trainer covering sporting events, if not also visiting the schools regularly for injury assessments.
Athletic trainers are healthcare professionals that work in tandem with a physician to provide medical care to patients, an important role especially for student athletes who aren't necessarily attentive to their own physical health (at least not until they've sustained an injury).
But ATs aren't only found in school settings. In fact, Hale says the profession is seeing a lot of growth in the military sector.
Athletic trainers in the military have their pick of branches—the Navy, Army, Marines, Coast Guard and Air Force each have specific needs for the skills an AT possesses. In the Army, for instance, an athletic trainer wouldn't be deploying but rather would be stationed on a base to conduct injury evaluations and assist with soldiers' rehabilitation to return to active duty. In some cases, the AT may even coordinate with the base commander and supervise on-site training.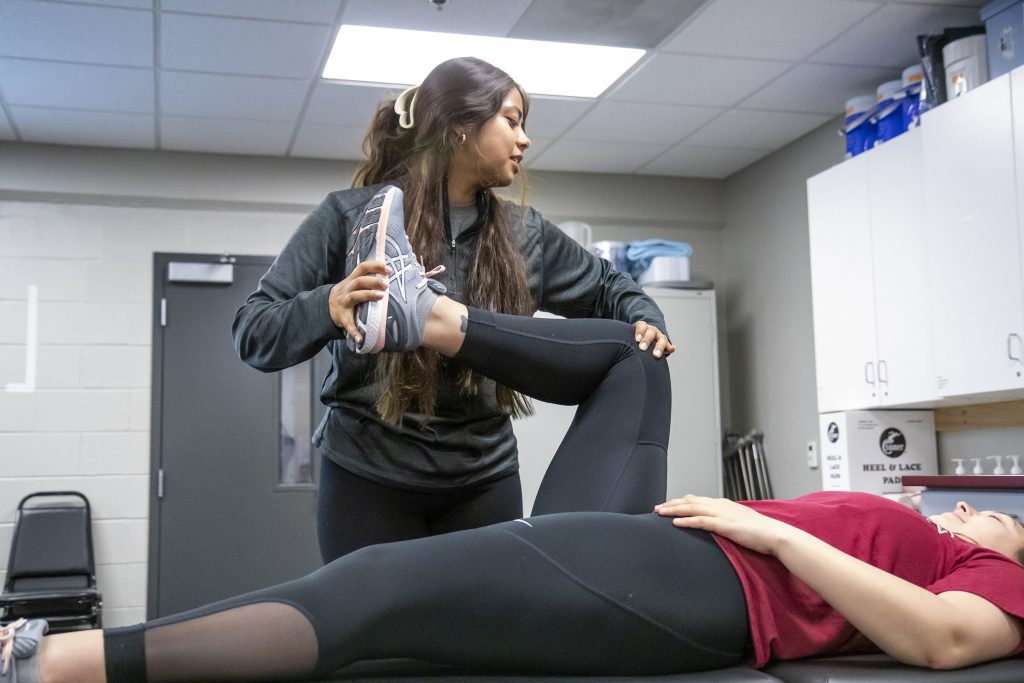 Athletic trainers are also finding employment in performing arts (with jobs related to educating and rehabilitating dancers, musicians and vocalists), public safety (serving firefighters and police officers), and even occupational health, where athletic trainers secure jobs conducting risk assessments, evaluating employee equipment and assisting with rehabilitation in the event of a work-related injury.
Hale says that, while athletic trainers are usually expected to be generalists when it comes to treatment and rehabilitation (more like a nurse than a specialty doctor), there is currently one additional certification—for an orthopedic specialty—that is offered for those in the field. With this board certification, ATs become better equipped to focus solely on injuries involving the musculoskeletal system.
"That's the only specific certification for athletic trainers that exists right now," Hale says. "In absence of that, if people have a specialty area like, for example, industrial medicine, or industrial athletic training, working in the military, working with dance and ballet, that's typically developed through their clinical experience."
Certainly there are many avenues for aspiring athletic trainers. Hale says if you're looking to find a career that combines helping athletes or those who are physically active, building rapport with colleagues and other professionals, and working in the healthcare field, athletic training might fit the bill.
Graduate programs in athletic training look different from school to school, but at Bridgewater College, it takes graduate students just two years to complete the program, including a board certification exam in their final spring semester. The program includes classes in everything from athletic and general medical emergencies (like a sprained ankle, a dislocated finger or even an asthma attack); therapeutic interventions; health promotion; taping, bracing and protective equipment; and even a psychology course geared toward athletic trainers. And, each term, students engage in a clinical experience (like an internship or practicum), in which the student is assigned a clinical preceptor, usually an athletic trainer but occasionally a physician. In all, students log 500 to 600 hours of on-the-job training. Graduates of the program have gone on to work in each of the aforementioned settings, and Hale says most start out with jobs at the high school or collegiate level. They've found work in industrial settings like corporations, where they've been hired to perform risk management and injury prevention, as well as clinical settings such as sports medicine outpatient centers, orthopedic practices and physician's offices.