Excel in a career as an athletic trainer
Develop your skills in athletic training, and see what rigorous preparation can do for your AT career. Through the Bridgewater College Master of Athletic Training (MSAT) program, you'll delve deeply into the profession, gaining real-world experience on campus and at a variety of clinical sites. You'll graduate from the program as a confident and proficient healthcare professional.
$640*
per credit hour
*2024-2025 tuition and fees
23*
months
*3+2 program available for BC HES majors
As an MSAT graduate, you will:
Be prepared to lead an ethical and purposeful career and life.
Develop clinical decision-making skills based on current research and various in-depth clinical placements.
Understand the role of the athletic trainer as a member of an interprofessional healthcare team.
Achieve remarkable outcomes in athletic training credentialing and job placement.
Become a confident and proficient athletic trainer.
Benefit from the BC liberal arts tradition and embracing the MSAT program core principles of excellence, caring, adaptability and impact.
Learn by doing.
The last two semesters of the Bridgewater College MSAT program are devoted to clinical immersion.
You'll work with real patients and practice health care everyday at places like college athletic programs, high school athletic programs, physical rehabilitation centers or medical clinics. You'll have close working relationships with your professors and clinical educators as you work with patients from the beginning of your journey to becoming an athletic trainer.
Alabama
Birmingham Southern College
Florida
Edward Waters University
University of Central Florida
Maryland 
University of Maryland Baltimore County (UMBC)
Michigan 
University of Michigan
New Mexico
University of New Mexico
New York
Syracuse University
North Carolina
Duke University
Queen's University of Charlotte
South Carolina
Coastal Carolina University
College of Charleston
Tennessee
University of Tennessee
Tennessee Wesleyan University
Virginia
Christopher Newport University
College of William & Mary
Ferrum College
James Madison University
Mary Baldwin University
Old Dominion University
University of Richmond
Virginia Military Institute
Virginia Tech
Alabama 
Champion Sports Medicine
Delaware
Forever Fit Foundation
Premier PT & Sports Performance
North Carolina
Epic Physical Therapy
Virginia
Harrisonburg ENT Associates
Lakewood Pediatrics
Forever Fit Foundation
McCain Whole Health Care
Premier PT & Sports Performance
Sentara RMH
The Center for Hand and Physical Therapy
Valley Urgent Care & Occupational Medicine
Delaware
Appoquinimink High School
Indian River School District
Maryland
St. Johns College High School
North Carolina
Clayton High School
South Carolina
Myrtle Beach High School
Wando High School
Virginia
Broadway High School
Buffalo Gap High School
East Rockingham High School
Fairfax County Public Schools
Fishburne Military School
Harrisonburg High School
Mountain View High School
Spotswood High School
Staunton High School
Turner Ashby High School
Warren County High School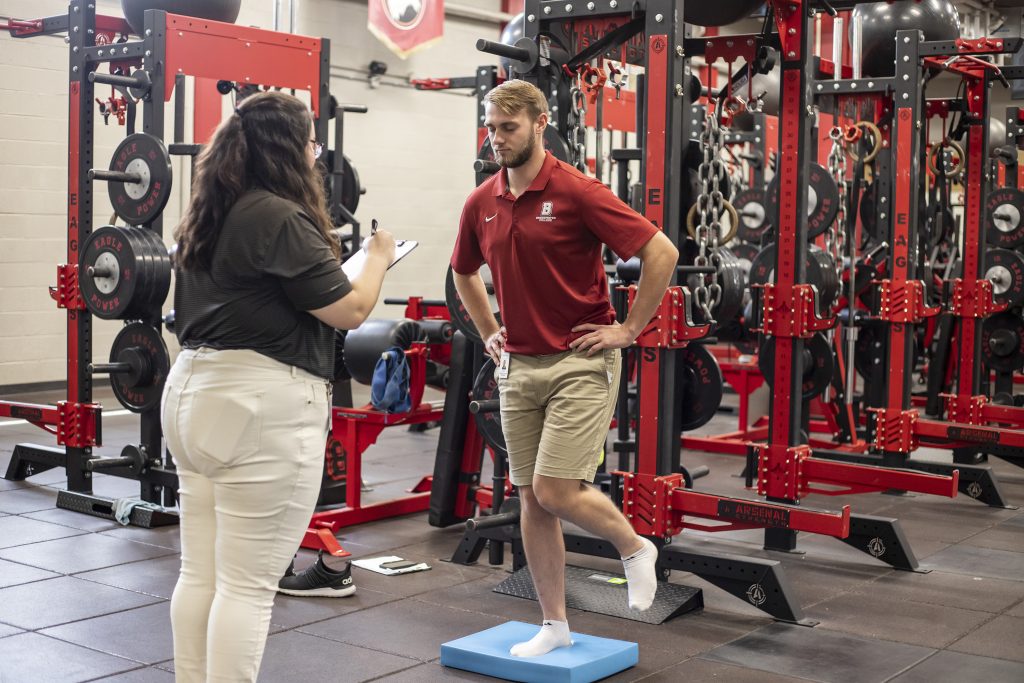 Advantages to our Program
100% first-time athletic training board exam (BOC) pass rate for the class of 2023
100% job placement rate within 3 months of graduation for the class of 2023
Learn from certified athletic trainers on staff at the Bridgewater College campus that covers NCAA Division III intercollegiate sports teams
Prepares you for athletic training careers at a variety of practice settings including (but not limited to) colleges, high schools, professional sports, physical rehabilitation centers, medical offices and industrial sites.
Fully accredited by the Commission on Accreditation of Athletic Training Education (CAATE)
In-person, full time, 2 year program
Easy application process with applicants admitted on a rolling basis until the cohort is full (18 students per year)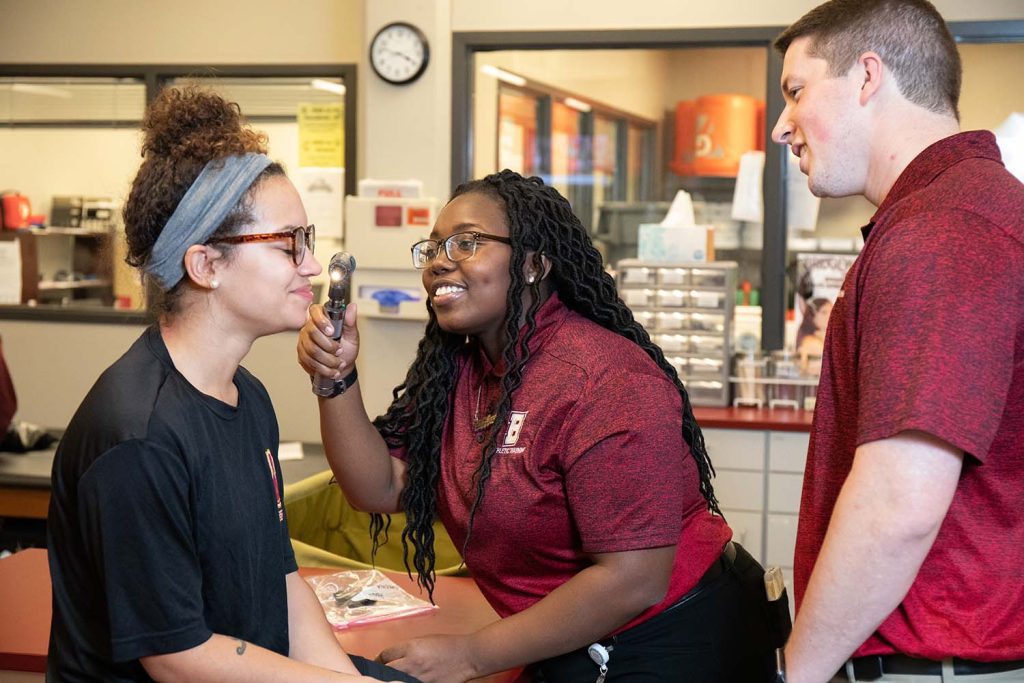 Accreditation
The MSAT program is fully accredited by the Commission on Accreditation of Athletic Training Education (CAATE) and the first school in Virginia to successfully secure CAATE accreditation at the master's level via the substantive change process.
Bridgewater College is accredited by the Southern Association of Colleges and Schools Commission on Colleges to award degrees at the baccalaureate and master's level. Contact the Commission on Colleges at 1866 Southern Lane, Decatur, Georgia 30033-4097 or call 404-679-4500 for questions about the accreditation of Bridgewater College.
Bridgewater College is accredited by the Commission on Accreditation of Athletic Training Education (CAATE) located at 6850 Austin Center Blvd., Suite 100, Austin, TX 78731-3184. Our next comprehensive review will be during 2028-2029.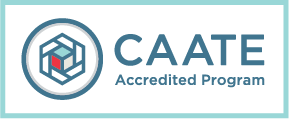 Virtual Graduate Information Sessions
Join us virtually to experience our graduate programs at Bridgewater. Speak directly with program directors and current students to gain an insight of how to advance your education to further your career as an athletic trainer.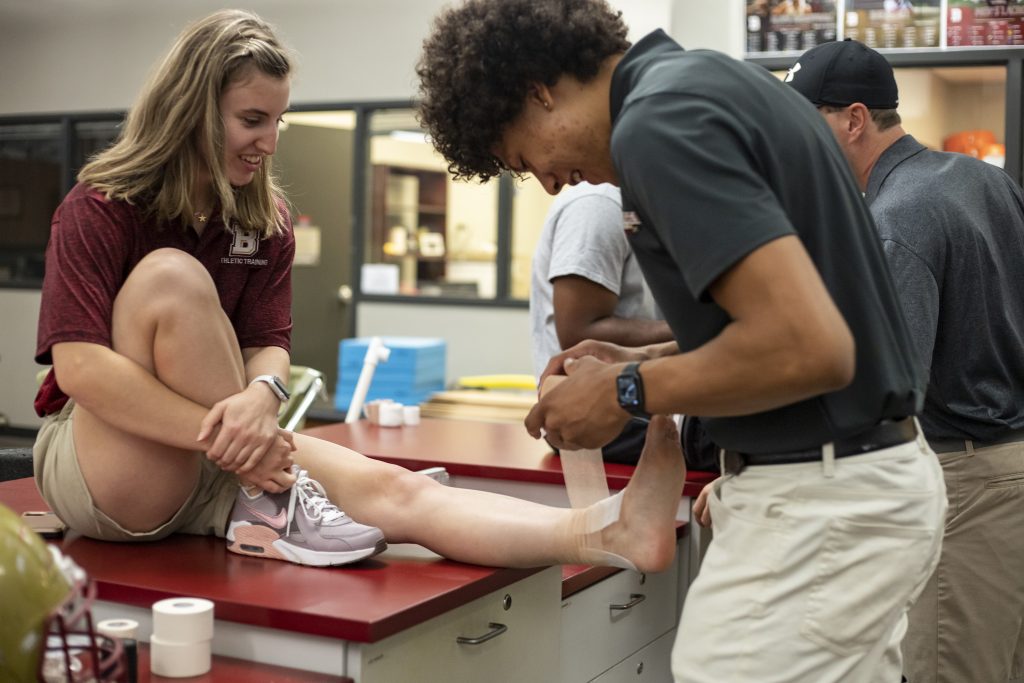 Accelerated Program
3+2 Undergraduate and Graduate Degrees in 5 Years
Bridgewater College is committed to providing opportunities for students to complete their undergraduate and graduate degrees in five years. Students wishing to complete the Master of Science in Athletic Training (MSAT) program and their undergraduate degree in five years must enroll at BC as an undergraduate student and major in health and exercise science. It is important that you contact Dr. Chase Hale in the fall semester of your first year to review your academic plan.
Faculty
You'll have close working relationships with your professors and clinical educators as you work with patients starting in your first semester on campus.
Athletic Training Facilities
You'll study and work in facilities designed to give you hands-on experiences with patients. Athletic training program facilities are equipped with classrooms, a laboratory and an athletic training clinic with a variety of modern equipment and technologies. Bridgewater College is a proud participant in the NCAA Division III Old Dominion Athletic Conference. Bridgewater has teams in 23 different sports offering a variety of clinical experiences.
Submit the Athletic Training Student Application through ATCAS (application fees are paid directly to ATCAS).
Successful academic performance resulting in a minimum cumulative GPA of 2.7.
Official transcript(s) of all college coursework (submit to ATCAS).
Complete 50 observation hours under the supervision of a certified/licensed athletic trainer. Evidence of observation hours completion should be submitted to ATCAS in the form of an hour's log signed by the supervising athletic trainer, or a letter of confirmation written by the supervising athletic trainer.
Application personal statement should address your professional goals and desire for pursuing athletic training as a career (submit to ATCAS).
Two letters of recommendation (submit to ATCAS). The makeup of the recommendations should be: one from a certified/licensed athletic trainer and one from a college faculty member.
Interview with the MSAT Admissions Committee (if selected for the interview process).
Completion of the following prerequisite courses with a grade of "C" or higher (students may be enrolled in prerequisite courses at the time of application):

8 Credits in Anatomy/Physiology with Lab
4 Credits in General or Inorganic Chemistry with Lab
3 Credits in English Composition (not literature)
3 Credits in Nutrition
3 Credits in Exercise Physiology
3 Credits in Statistics or Research Methods
4 Credits in Physics with Lab
3 Credits in General Psychology
The MSAT program only accepts full-time students. Applicants will be admitted to the program on a rolling basis until the cohort is full (18 students per year). Students are encouraged to apply as early as possible to allow sufficient time for application completion and admissions consideration. Review of submitted applications will begin on August 1, 2023. Students interested in priority admissions consideration must submit a completed application by November 1, 2023 and will be notified of admission status by December 15, 2023. After November 1, applications will be reviewed on a rolling basis as space allows until May 1, 2024.
MSAT YEAR ONE
SUMMER 1 (9 Credits)
AT-501: Anatomy for Healthcare Professionals I (3)
AT-502: Anatomy for Healthcare Professionals II (3)
AT-510: Athletic Training Foundations (1)
AT-511: Athletic Training Applications I (1)
AT-550: Clinical Experience I (1)
FALL (16 Credits)
AT-520: Patient Examination & Care I (3.5)
AT-530: Therapeutic Interventions I (3.5)
AT-540: Professional Knowledge Assessment I (1)
AT-551: Clinical Experience II (2)
AT-556: Management Concepts in Healthcare (3)
AT-567: Health & Exercise Psychology (3)
SPRING (12 Credits)
AT-560: Athletic Training Seminar I (3)
AT-521: Patient Examination & Care II (3.5)
AT-531: Therapeutic Interventions II (3.5)
AT-541: Professional Knowledge Assessment II (1)
AT-552: Clinical Experience III (1)
MSAT YEAR TWO
SUMMER II (8 Credits)
AT-601: Emergency Care (3)
AT-610: Athletic Training Applications II (1)
AT-620: General Medical Conditions (2)
AT-640: Professional Knowledge Assessment III (1)
AT-650: Clinical Experience IV (1)
FALL (9 Credits)
AT-630: Health Promotion (3)
AT-641: Professional Knowledge Assessment IV (1)
AT-651: Clinical Immersion I (5)
SPRING (9 Credits)
AT-642: Professional Knowledge Assessment V (1)
AT-652: Clinical Immersion II (5)
AT-660: Athletic Training Seminar II (3)
Federal regulations from the United States Department of Education require Bridgewater College to disclose whether its educational programs meet the conditions for state credentialing (e.g., certification or licensure). The Master of Science in Athletic Training prepares students to be eligible to take the Board of Certification, Inc. (BOC) examination. Successfully passing the BOC examination results in eligibility for credentialing (licensure) as an athletic trainer in 49 states and the District of Columbia. Only California has no athletic training regulation. In addition to becoming certified by the BOC, there are character, criminal background assessments, and other qualifications required in every U.S. jurisdiction. Graduates are encouraged to determine the requirements for any U.S. state/district in which they plan to practice by contacting the appropriate board e.g., health, medicine. These boards can be identified by searching the individual state and/or the BOC, Inc. webpage at https://www.bocatc.org/state-regulation.
Questions? Contact Us!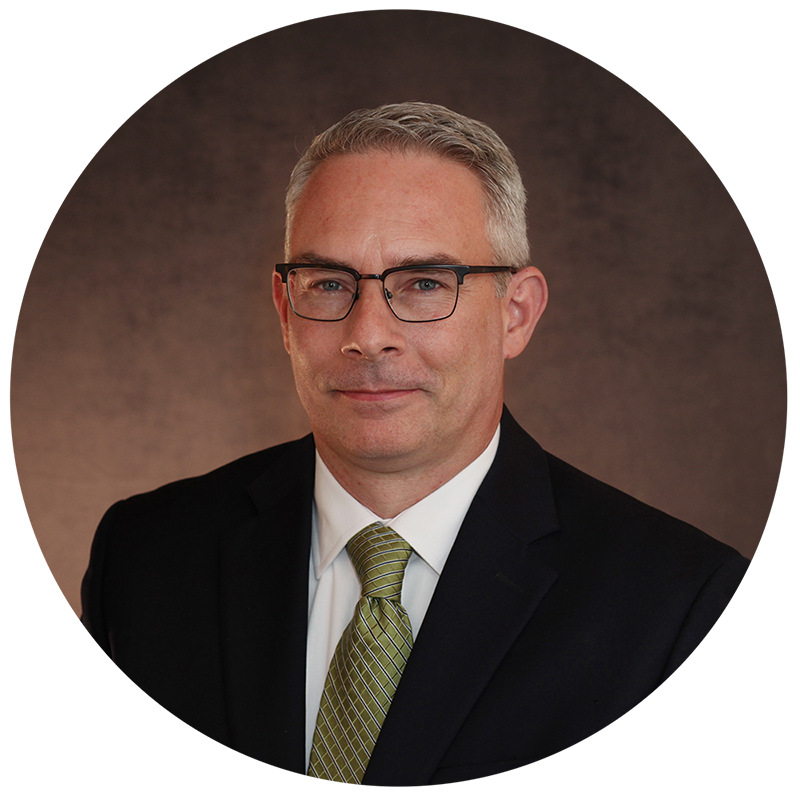 Dr. Charles "Chase" W. Hale IV
Associate Professor, Health & Human Sciences
Director, Athletic Training Program
540-828-5763
chale@bridgewater.edu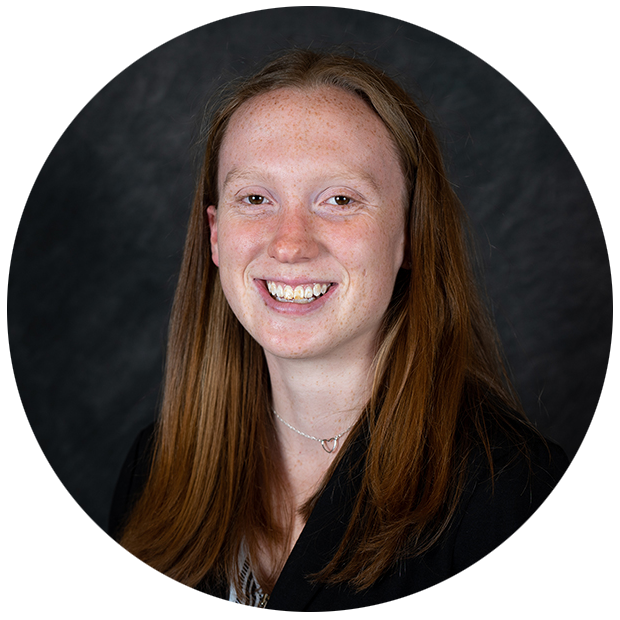 Victoria Hudson
Assistant Director for Graduate Recruitment
540-828-5375
vhudson2@bridgewater.edu
---
We are equipping our students to be distinctive, marketable and to excel in an evolving healthcare community through personal development, dynamic education, and integrated clinical practice. Our students will learn to care for patients with empathy and technical excellence using an interdisciplinary perspective. We will develop clinicians who are able to adapt to new discoveries and persevere in the face of adversity. Our graduates will use their experiences within the program to have a positive impact as professionals on the broader community as leaders and people of principle.