Bridgewater College is home to over 60 student-run clubs and organizations, as well as numerous honors societies and musical ensembles. Don't see a club you're interested in? Start your own!
Bridgewater Investment Club

Bridgewater Investment Club provides students with the opportunity to participate in activities orientated towards investing, personal finance, banking, and economics. The club fosters a sense of community among its members while instilling a strong sense of ethics and social responsibility required in the field of investing and personal finance.
Advisor: Dr. Daniel Finseth
Collegiate Entrepreneurs Organization (CEO)
Collegiate Entrepreneurs' Organization (CEO), the premier entrepreneurship network in North America, promotes a spirit of entrepreneurship and encourages college students to seek opportunity through enterprise creation. In addition to regular meetings, Bridgewater CEO activities include bringing entrepreneurial guest speakers to campus, hosting "Getting to Know an Entrepreneur" events, sponsoring students to the national CEO conference in Chicago, supporting members to attend the Self-Employment in the Arts (SEA) annual conference and joint-venturing with the Greater Ashby Business Council of the Harrisonburg-Rockingham County Chamber of Commerce to host an annual Business Expo. Membership in CEO is open to all BC students regardless of major.
Advisor: Maria Lugo
Computing Club
The Bridgewater College Computing Club promotes the interest of computing and its applications and builds a greater community around those who are interested in computing.
Advisor: Tristan Supples
Educators Rising at Bridgewater College
This club is open to all Bridgewater College students with an interest in the field of education. Through Educators Rising Collegiate, future educators are able to gain access to an additional level of supports and content to ensure they are ready for the classroom. Throughout the year club members participate in a variety of activities designed to engage them in deeper discussions around hot-button topics in education, spur them to think about actions they can take at the local level, and prepare them for a classroom of their own.
Advisor: Dr. Tracy Hough
Environmental Science Club

This club helps students explore environmental science careers through guest speakers and experiential learning. Events include hiking, environmental education, volunteering, learning about invasive species, dinner and guest convos.
Advisors: Dr. Tim Kreps, Dr. Tamara Johnstone-Yellin, and Dr. Kim Bolyard
Family Consumer Science Student Unit
Family Consumer Science (FCSSU) promotes personal growth and leadership development through family and consumer sciences education. Monthly meetings, and a focus on community service. Open to all students regardless of major.
Advisor: Dr. Donna Hoskins
Health and Physical Education Club
Health and Physical Education Club unites students interested in teaching health and physical education and expands their knowledge. Through this organization, members will be able to share teaching strategies and ideas, access professional resources, attend professional conferences, and support peers within the department. The club is open to all students.
Advisor: Dr. Amanda Campbell
Pinion Players
Pinion Players, the student-run theatre organization, provides students with opportunities to participate in all aspects of theatrical production—from directing and acting to set designing and playwriting. Open to all students. Activities may include children's theatre productions for local elementary schools, madrigal dinners and a student-directed, one-act festival.
Advisor: Dr. Scott Cole
Pre-Health Society
Pre-Health Society assists students who are pursuing a career in health-related fields. They invite guest speakers from a variety of different health professionals, provides information on volunteering, internships, and research opportunities, and organizes group trips to graduate school open houses.
Advisor: Dr. Gavin Lawson
Society for Human Resource Management (SHRM)
Society for Human Resource Management (SHRM), BC Chapter, is part of a nationally recognized organization that's committed to advancing the human resource profession. Provides professional development for human resource professionals.
Advisor: Dr. Roslyn Vargas
Website: wp.bridgewater.edu/shrm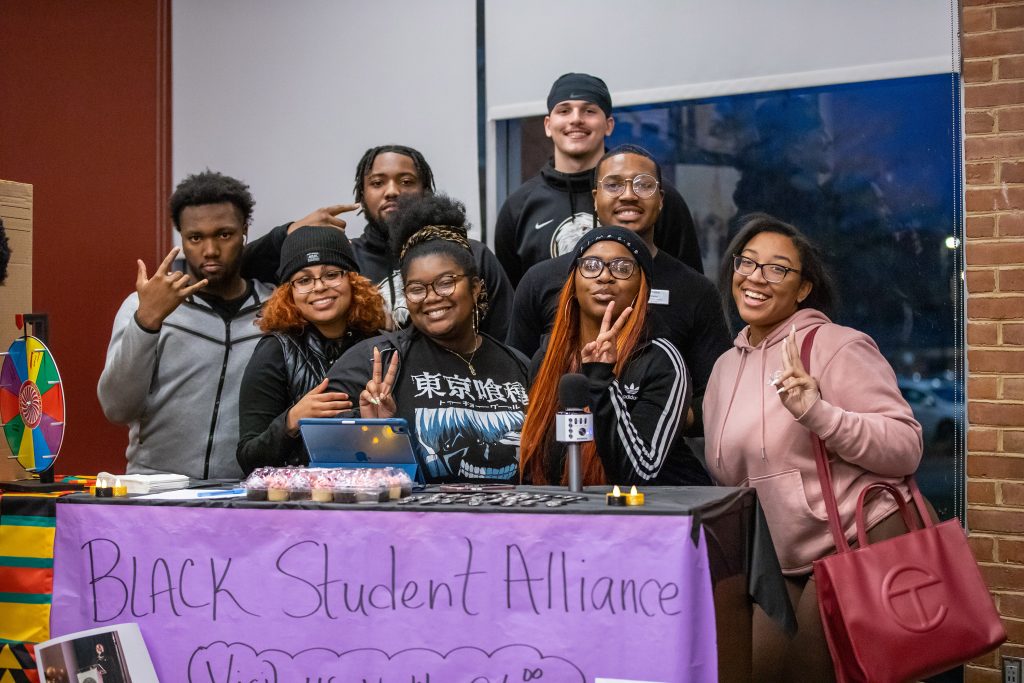 African Student Association (AFSA)
As African origin students, we are building a united and prosperous African Student Association. This culturally, socially, and academically vibrant organization, is aimed at providing opportunities for African students to showcase their cultural heritage and the uniqueness of Africa, as a continent.
Advisor: Dr. Nuradeen Nuhu
Asian Student Association
Asian Student Association celebrates the Asian cultures through music, dance, holiday celebrations, and social issues that impact the Asian identity at Bridgewater College and the surrounding community. ASA provides social and service activities for all interested individuals and promotes identity and unity among the Asian students of Bridgewater College.
Advisor: Dr. Yuka Kishida
BC Allies
BC Allies promotes awareness, understanding and tolerance of Lesbian/Gay/Bisexual/Transgender/Questioning (LGBTQ) issues through education and open dialogue within the BC community. We strive to create a campus atmosphere that is open to LGBTQ individuals. Open to all students, regardless of race, ethnicity, national origin, religion, age, disability, gender, or sexual orientation.
Advisor: Dr. Melanie Laliker
Black Student Alliance (BSA)
Black Student Alliance (BSA) supports black students at Bridgewater. We also promote awareness of contributions by African Americans on the campus community and beyond.
Advisor: Dr. Daniel Finseth
Brethren Student Movement (BSM)
Brethren Student Movement (BSM) meets weekly to provide opportunity for Christian fellowship and growth. Activities include weekly Bible studies, retreats, recreation, prayer partners and service projects. Open to all students.
Advisor: Dr. Tim Kreps
Catholic Campus Ministry (CCM)
Catholic Campus Ministry shares the faith, fellowship, prayer, and service with the community. They provide transportation to Mass and/or hold Mass on campus for interested students.
Advisor: Skip Burzumato
CRU
Campus Crusade for Christ (CRU) is an interdenominational Christian group that meets weekly for fellowship, prayer and worship. Open to all students.
Advisor: John Manson
Fellowship of Christian Athletes (FCA)
Fellowship of Christian Athletes is a Christ-centered fellowship organization for students who share an interest in athletics.
Advisor: Dr. Jennie Carr
Latinx Student Association (LSA)
Latinx Student Association (LSA) is a community-building club for students from Hispanic and Latinx backgrounds and countries and for students who would like to gain insight on Hispanic and Latinx communities.
Advisor: Dr. Vimari Colon-Leon
Muslim Student Association
Muslim Student Association seeks to increase the awareness of Islam on campus and engage in the traditions and practices of that tradition. Open to all students.
Advisor: Anne Marsh
Roundtable Regional Youth Conference
Roundtable Regional Youth Conference (RYC) is committed to serving and glorifying God and inspiring the youth of the Southeastern Region of the Church of the Brethren. RYC plans and leads an annual youth event, Roundtable, held each Spring. The organization provides fellowship opportunities and builds a sense of interdependent community among the student body. Open to all students.
Advisor: Dr. Carol Scheppard
Women at Work
Women at Work focuses on raising awareness of and improving issues that affect women. The club is open to all students and provides opportunities for open dialogue and community engagement.
Advisor: Dr. Beth Lehman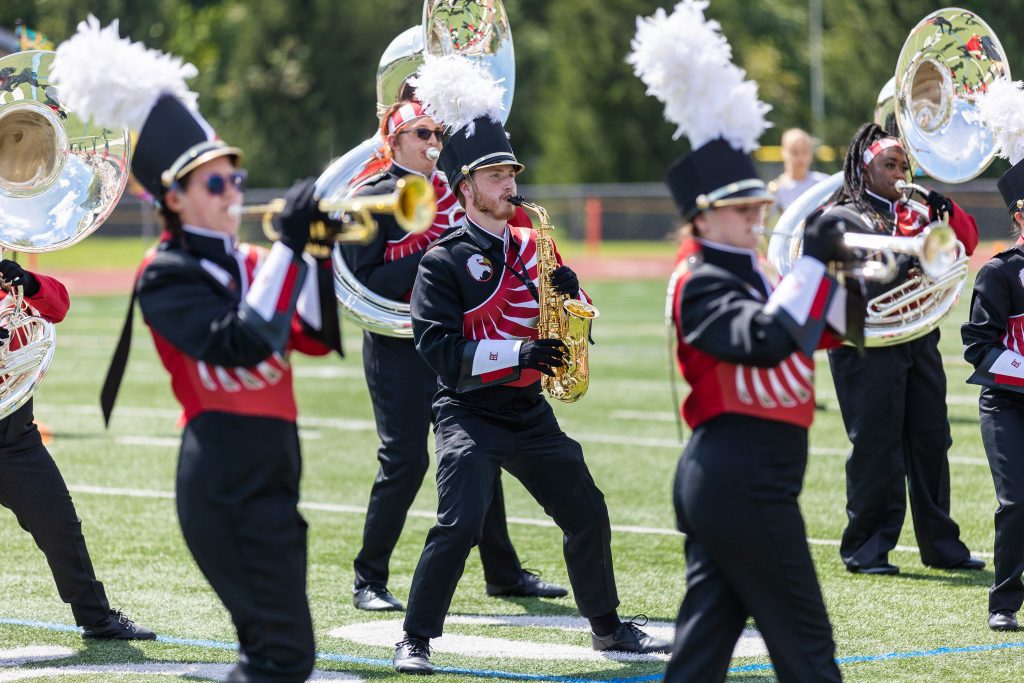 Bridgewater College Student Association (BCSA)
The mission of the Bridgewater College Student Association (BCSA) is to be the primary representative group, serving as the student voice for both graduate and undergraduate students. BCSA will hear and advocate for the student body, host events to foster connections among peers, and interface with the College administration.
Advisor: Sam Huyard
BC Voice
BC Voice is the student-run news organization on campus providing students with marketable experience in multi-platform media writing and production including web, audio (podcasts and radio), photography and videography and print. Published pieces provide the Bridgewater College community with news and information about college-specific, local and national events.
Advisor: Dr. Steve Ingham
Campus Engagement and Activity Team (CEAT)
Campus Engagement and Activity Team (CEAT) is Bridgewater's programming board that plans and implements weekly activities for students. The group provides students with entertaining and community-orientated programs focused on traditions and athletic events, late night and daytime programs, and off-campus trips. Additionally, CEAT provides a unique experience for their crew members to be part of an influential and impactful community on campus while also developing personally and growing as leaders.
Advisor: Rose Tribby
Screamin' Eagles Marching Band
Bringing the hype at BC! By joining the Screamin' Eagles Marching Band, you become a member of the band and help build an important tradition on campus. You'll not only get to perform at home football games in the Fall, you'll also travel to some away games with the team, join in Homecoming Week events, and participate in local parades and festivals.
Advisor: Barry Flowe
Student Ambassador Association
Student Ambassador Association promotes a positive image and pride in Bridgewater College by assisting the admissions office with campus tours, special visit events, and various admissions office tasks. This select group represents the best of a diverse, self-confident, enthusiastic, and scholarly student body, with members from a variety of academic majors, interests, geographic locations.
Advisor: Robby Marenick
Student Athlete Advisory Committee (SAAC)
Student Athlete Advisory Committee provides a forum for student-athletes to discuss issues, concerns, and support for BC athletics. Enhances the total student-athlete experience by promoting athletic and academic opportunities, protecting the welfare of student-athletes, and fostering a positive image within the rules and regulations of the ODAC and Division III philosophy.
Advisor: Gwynn Harrison
Active Minds
Active Minds promotes awareness among college students about mental health issues through educational campaigns and events. It offers information about mental health resources in and around the campus community and strives to reduce the stigma that surrounds mental illness.
Advisor: Katie Seymour
Alpha Phi Omega (APO)
Alpha Phi Omega (APO), a national coed service fraternity, provides opportunities to develop leadership skills, make new friends and serve others. Nationally, the organization provides more service opportunities on more campuses than any other collegiate service organization.
Advisor: Ben Erickson
BC United
BC United is a peer education and bystander education organization that addresses issues of sexual violence and substance use.
Advisor:  Katie Seymour
Bridgewater College Republicans
The Bridgewater College Republicans help promote conservative ideas on campus. We actively participate in national, state, and local Republican campaigns and work directly with Republican candidates.
Advisor: Dr. Holly Caldwell-Taylor
Habitat for Humanity (HFH)
Habitat for Humanity (HFH), BC Campus Chapter, is an ecumenical housing ministry that shares God's love by bringing people together to build homes, communities, and hope throughout the world.
Advisor: Dr. Stephen Baron
Lend a Paw
Lend a Paw is an advocacy and action-oriented organization that promotes awareness about animal health and wellbeing. The group strives to instill respect for all animals and provide community service to local, animal-oriented, not-for-profit organizations. Open to all students with a heart for animals.
Advisor: Dr. Betsy Hayes
Model United Nations
Model UN engages students in open dialogue about global politics and encourages them to attend Model UN conferences.
Advisor: Dr. Brandon Marsh
Morgan's Message
Morgan's Message strives to eliminate the stigma surrounding mental health within the student-athlete community and equalize the treatment of physical and mental health in athletics. Morgan's Message amplifies stories and resources, builds a community by and for athletes, and provides a platform for advocacy. The club aims to expand the dialogue on mental health by normalizing conversations, empowering those who suffer in silence, and support those who feel alone.
Advisor: Gina Stephan
Student Support Foundation
The Bridgewater College Student Support Foundation is a student-run philanthropy group affiliated with the Morgridge Family Foundation. The group provides financial assistance to students, both on and off campus.
Advisors: Dr. Jamie Frueh and Keon Nesmith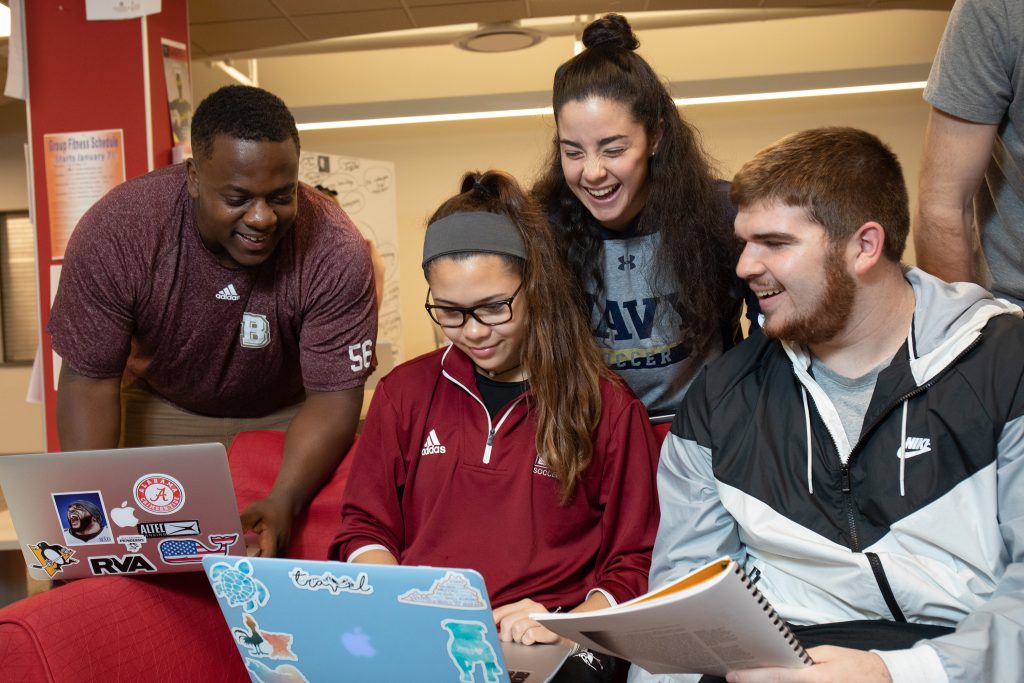 Alpha Chi
Alpha Chi, a national college scholarship honor society with chapters in more than 298 colleges and universities, promotes academic excellence and good character. Each year, selected Bridgewater students gain national recognition by being elected to membership. Eligible students must be active in the Philomathes Society (see description below), have a minimum GPA of 3.4 and rank in the top 10 percent of the junior or senior class.
Advisor: Dr. Stephen Baron
Alpha Psi Omega
Alpha Psi Omega (ETA Upsilon Cast) is the National Theatre Honor Society. Students who distinguish themselves in numerous areas of theatrical production may be invited to join the BC chapter—the Eta Upsilon Cast.
Advisor: Scott Cole
Lambda Pi Eta
Lambda Pi Eta is the honor society of the National Communication Association, which has more than 400 national chapters accredited by the Association of College Honor Societies. Outstanding juniors and seniors who are majoring or minoring in communication studies are eligible for election into Lambda Pi Eta.
Advisor: Benjamin Erickson
Omicron Delta Kappa
Omicron Delta Kappa (ODK), a national leadership honor society, recognizes students who have achieved high standards of leadership in collegiate activities. Membership in ODK is awarded to juniors or seniors who have a minimum of a 3.0 GPA and demonstrate exceptional leadership in at least one of these five areas: campus or community service, social or religious activities and campus government; journalism, speech and the mass media; creative and performing arts; scholarship; and athletics.
Advisor: Dr. Randall C. Young
Phi Alpha Theta
Phi Alpha Theta is a national honorary society that recognizes outstanding students of history. Open to all students regardless of major.
Advisor: Yuka Kishida
Philomathes Society
Philomathes Society encourages scholarship and recognizes students, faculty members and alumni who have achieved unusual distinction in the pursuit of knowledge. Students who have completed 30 units of academic credit with a cumulative GPA of 3.4 or higher, have satisfactory grades in Convocation attendance and are in good standing with the College are eligible to be nominated for membership.
President: Dr. Eric McGregor
Psi Chi
Psi Chi is an international honor society in psychology. Open to psychology majors and minors or neuroscience minors (minimum 9 semester hours of psychology courses) with a minimum GPA of 3.0 in psychology courses. A national membership fee required.
Advisor: Dr. Alan Eby
Sigma Pi Sigma
Sigma Pi Sigma, the National Physics Honor Society, recognizes outstanding achievement in physics. Students who have completed at least 3 semester courses towards a physics major or minor with GPA of 3.4 or higher in those courses, and a cumulative GPA of 3.4 or higher are eligible to be nominated for membership. Membership is not restricted to physics majors.
Advisor: Dr. Deva O'Neil
Sigma Tau Delta
Sigma Tau Delta, an international English honor society, recognizes high achievement in the discipline of English, including literature, language, and writing. Members must have completed three semesters of college course work, completed at least two college courses in the English discipline beyond ENG 110, and have a minimum GPA of 3.0.
Advisor: Ashley Lauro
TriBeta (Beta Beta Beta)
TriBeta (Beta Beta Beta) is a national biological honor society represented at Bridgewater by the Nu Upsilon chapter. It emphasizes scholarship and service through research and education. Potential members must be biology majors with a 3.0 GPA in their major coursework.
Advisor: Dr. Ed Lickey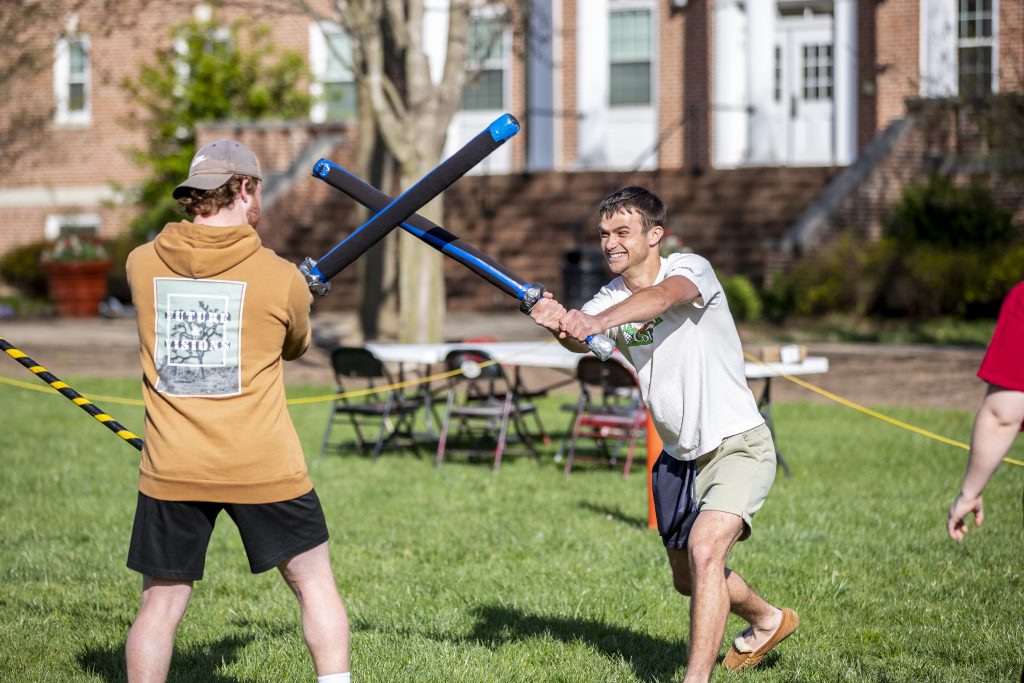 BC Dungeons and Dragons Club
BC Dungeons and Dragons Club introduces more people to the wonders of creating a world together with their friends or to find new friends to go on an adventure together. The club can be used to introduce others to D&D and garner interest for those that want to become their own Dragon Master for a new group of people to go on a campaign. Through the club, students will have the opportunity to create a community who are brought together by their interest in D&D and similar campaign games.
Advisor: Ron Alabanza
BC Esports
BC Esports connects students who have a love for gaming and esports. They provide a space for students to compete in games that they love, show off their skills, and have fun as a community!
Advisor: Tristan Supples
BC Skate
BC Skateboarding Club helps students meet new people and bond over the hobby of skateboarding. This club will bring people together and help them unwind after a stressful time at school.
Advisor: Dr. Moshe Khurgel
Book Club
Book Club promotes the love of independent reading and empowers students by reading novels where a vast community of voices are represented.
Advisor: Taylor Baugher
Brazilian Jiu Jitsu
Brazilian Jiu Jitsu club promotes the study and practice of the grappling and submission martial art of Brazilian Jiu Jitsu through weekly training sessions. All students are welcome, and no prior martial arts training is required.
Advisor: Dr. Kevin Pallister
Comitatus
Comitatus promotes the study and safe practice of the Western Martial Arts, the armed and unarmed combat arts of Medieval and Renaissance Europe and Britain (the longsword, sword and buckler, dagger, poleax and wrestling). The group is focused on 14th and 15th century German traditions—especially the teachings of Johannes Liechtenauer, grandmaster of the German school of fencing. No prior experience or equipment is necessary.
Advisor: Dr. Gavin Lawson
Creative Writing Club
Creative Writing Club is an opportunity for writers to do what they love the most, write! We explore the creative process through prompts and games and enjoy presentations from guest speakers.
Advisor: Dr. Sam Hamilton
Dance Club
Dance Club provides student with the opportunity to introduce students to all levels and kinds of dances. Dance Team is housed within Dance Club which performs at halftime for football games, men's and women's basketball, and other athletic events.
Advisor: Dr. Roslyn Vargas
Equestrian Club
Equestrian Club promotes an interest in horses and equestrian skills within the Bridgewater College community. Open to all full-time students in good academic standing at B.C. Members of the competitive equestrian team are required to participate, and all club members are encouraged to join the BC riding program.
Advisors: Tori Hudson and Dr. Tracy Hough
FVRLAND
FVRLAND is a K-pop and cover dance group at Bridgewater. Not only will students learn how the style of K-pop dance, but also about Korean culture and how it influences K-pop.
Advisor: Kara Folmar
Music Production Club
Music Production Club provides an environment for Bridgewater College students who are aspiring producers, musicians, and artists to gather together and learn how to produce music. We will teach students about general and advanced knowledge on techniques of digital music productions, encourage musical collaboration between members, foster an appreciation for various cultures and genres of music, plan activities and service opportunities, and support musical students during their time at Bridgewater.
Advisor: Skip Burzumato
For a list of our musical ensembles, please visit the music page
Information related to Adam's Law can be found on our Student Conduct page.