Home away from home
If you are looking for an American university education at a small school with personal attention, look no further. Bridgewater College will challenge you and give you the support you need.
---
Take a Virtual Tour of Campus
Check out our online virtual tour and see for yourself what BC has to offer. The tour is available in multiple languages – English, Spanish, Chinese and Arabic.
---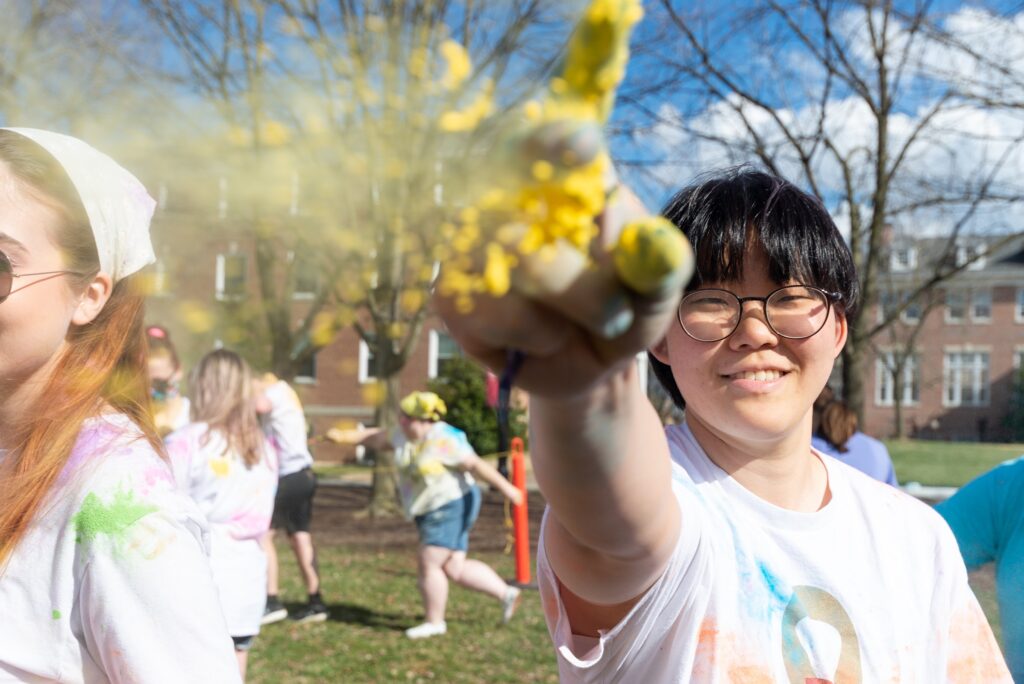 Bridgewater College Welcomes Record Number of New International Students, Boasts Highest Population on Campus in Three Decades
A record-breaking number of new students to Bridgewater College are from across the globe—more than 6% of incoming students for the 2023-24 academic year—the College's highest international student population for a new class in school history.
Frequently Asked Questions
Your classes will have an average size of 13 students. This means you will have a lot of opportunities to get to know your professors and fellow students. Field experiences, internships and independent research will take you outside the classroom and give you the chance to practice what you've learned.
Located in Bridgewater, Virginia, the College is  a two-hour drive from Washington, D.C., and Richmond, Virginia (the state capital). Bridgewater is a safe and welcoming small town, but only a short distance away from larger cities.
Affordability
International students are eligible for scholarships that range from $2,000-$5,000 per year. 99% of BC students receive some type of financial aid.
Academic focus
Choose from approximately 60 majors and minors for your education at Bridgewater. Bridgewater is a liberal arts institution, which means your education will include the ability to think critically, to communicate effectively and to argue persuasively. You'll also practice reflecting on ethical questions, evaluating ideas and seeing many sides of issues. Once you master these skills, you'll go beyond the knowledge accumulated in your field to become someone with the abilities to succeed not only in the workplace but also in life.
Diversity
Our students come from all over the United States and the world, from a variety of backgrounds.
Personalized experience
At Bridgewater, the average class size is 13 students. Outside the classroom, you can enjoy participating in nearly 60 student clubs, sports teams, and other organizations.
Bridgewater is consistently named "One of the Best Colleges in the Southeast" by the Princeton Review.
Bridgewater is a residential college, so most of our students live on campus during their time here. We believe that students who live, study, work and play together on campus make connections that extend learning beyond the classroom. That's an important part of a liberal arts education.
Each residence hall or apartment has:
Laundry rooms with coin-free washers and dryers
Vending machines (except for Stone Village)
Television/recreation lounges (except for Stone Village)
Study lounges (except for Stone Village)
Heating and air conditioning
Kitchens
Bathrooms
Single, double, triple and/or quad rooms (Single rooms are reserved for upperclass students and those with special housing needs.)
At Bridgewater, you will be welcomed by friendly, caring people who will become your teachers, mentors and friends. Make Bridgewater College your "home away from home."
We can help you by offering:
Airport pick-up service – transportation from regional airports
An orientation for international students
Assistance with your immigration status
Guidance on maintaining your visa status
Support in applying for internships, jobs and graduate schools
Application materials should be submitted by April 15 for fall semester. Late applications may be considered if space remains.  Please try to submit all your information at the same time. This will enable us to review and process your application as quickly as possible, and you will hear from us about your admission status sooner.
All institutional transcripts must be submitted for an academic credential evaluation to obtain equivalency information regarding courses, credits, grades, and degrees earned through SpanTran (discount available), World Education Services (WES), or any current NACES member. A general or document-by-document report is sufficient and must include GPA. It is the responsibility of the applicant to make arrangements for the evaluation.
The test score report must be sent from the test company and must be from one of the following exams:

TOEFL – Test of English as a Foreign Language (79 iBT or 550 paper-based)
IELTS – Intensive English Language Testing System (6.5 academic)
Duolingo English Test (105)
SAT or ACT — If you are a native English speaker or have studied in an English-speaking secondary school, you should submit SAT or ACT scores instead of or in addition to English proficiency scores.

All applicants must provide an official secondary school transcript, that must be emailed to admissions@bridgewater.edu directly from the school.
Country specific exams/test results also need to be emailed to admissions@bridgewater.edu.
An international application may not apply test-optional, nor may they self-reported English language proficiency test scores on their admission application.
**If you do not meet the minimum test score requirement (of TOEFL, IELTS, PTE, Duolingo, SAT, or ACT), you may be conditionally admitted to Bridgewater College, provided you enroll in and successfully complete an approved English language training program.**
Once you have been admitted and made the decision to attend Bridgewater College, you will need to do the following to finalize your acceptance:
Submit a copy of the front page of your passport (photo page).
Complete the Certification of Finances Form which will be included in your acceptance letter.
Provide your foreign permanent address if different from the one used in your application.
After your Certificate of Finance has been submitted and confirmed, pay your reservation deposit of $300.00.
Once you are accepted and your Certificate of Finance has been submitted and confirmed, a deposit of $300 is required of all students. Your deposit must be paid before your I-20 can be issued.
Health Insurance: Before coming to Bridgewater, you are required to provide proof of sufficient health insurance coverage from a U.S.-based provider. Your plan must meet certain minimum requirements, so contact Anne Marsh  at atmarsh@bridgewater.edu to review policy details before you purchase any plan. Your provider must be a US-based company. Please notify Anne Marsh of appropriate coverage before August 10, or the college will purchase a plan on your behalf that will be billed to your student account.
Questions? Contact us!
Office of Admissions
800-759-8328
admissions@bridgewater.edu
Monday through Friday, 8 a.m. – 4:30 p.m.