Kickstart your career with biology
Your future is bright with a biology degree from Bridgewater College. Advances in cell biology, molecular genetics and ecology mean that well-prepared biologists are always in demand.
Bridgewater alumni have become successful physicians, research scientists, veterinarians, medical technologists, environmental lawyers, dentists, physical therapists, genetic counselors and forestry and wildlife specialists. You can also add a minor in wildlife biology to add depth to the major.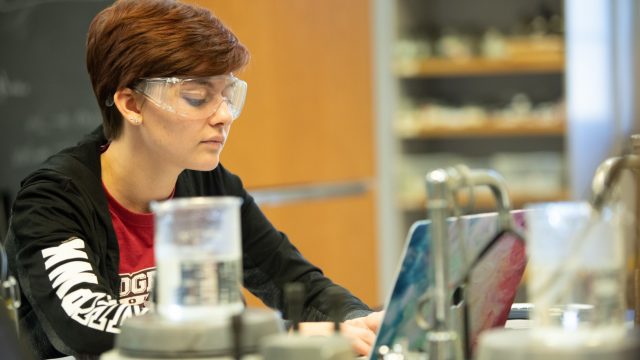 Program Highlight
CONDUCT CUTTING-EDGE RESEARCH
Perform independent research projects during the semester or the summer to apply what you've learned hands-on, with guidance from faculty mentors. Start almost immediately.
What to Expect
43 credit hours of courses in biology, chemistry, and mathematics
Major in biology with the option for a secondary education endorsement
Courses
You'll take a core of biology courses covering organismal biology, genetics, molecular biology, physiology, ecology and evolution. Then you can develop depth in any area of interest through upper-level classes and research.
Principles of Biology I
BIOL-110
Introduction to the biological sciences, covering biological chemistry, cell/tissue structure and function, genetics and microevolution.
Genetics
BIOL-309
Introduction to both classical, Mendelian inheritance and molecular genetics with one lab per week.
Evolution
BIOL-430
Examination of the mechanisms of biological evolution including mutation, natural selection, genetic drift, and the genetic structure of species populations.
Required Courses Meet the Faculty
Careers
Our alumni have landed careers at the FBI, US Department of Energy, Novant Health and Merck pharmaceuticals among others. Their career paths include:
Medicine and Health
Nursing
Clinical Lab Sciences
Quality Assurance
Veterinary Medicine
Laboratory Research
Marine Biology
Pharmacy
Teaching
Hospital Administration
Clubs
Get involved in clubs that build professional knowledge, communication and leadership skills such as the Pre-Health Society and TriBeta, the national biological honor society. Be active in club administration, fundraising and event planning.
As a Pre-Health Society member, you'll have access to information and opportunities to explore a variety of careers in healthcare. Pursue your interest in fields such as medicine, nursing, dentistry, optometry, veterinary medicine, clinical lab sciences, dental hygiene, and physical and occupational therapy.
For more information about joining the Pre-Health Society, contact:
Dr. Robyn Puffenbarger
Dr. Tracy Deem
Beta Beta Beta (Tri-Beta) National Biological Honor Society
TriBeta (Beta Beta Beta) is a national biological honor society represented at Bridgewater by the Nu Upsilon chapter. It emphasizes scholarship and service through research and education. Potential members must be biology majors with a 3.0 GPA in their major coursework.
Advisor: Ed Lickey
Similar Programs
Consider double majoring, adding a minor or focusing on a certain area of study.