Get ready for the 21st century global business world
Gain the knowledge and skills to become a successful and ethical leader. Whether you're interested in accounting, economics, finance, international commerce, government policy, marketing or management, BC will prepare you for today's business world. Apply what you study in case analyses, team projects and presentations, and experiential learning opportunities. You'll develop the critical thinking, communication and problem-solving skills you need for your career.
What to Expect
Choose a concentration: Accounting, Finance, Financial Economics, Marketing or Organization Management
45 credit hours of courses that will help develop skills you need for your career
Courses
You'll take a core of business courses covering business principles, microeconomics, accounting, finance, management, marketing, and informational systems. Additional courses will allow you to network and hone your leadership skills and gain practical experiences through upper-level classes and internships.
Learn from faculty who have professional experience in the business world
Work with a local business in the entrepreneurship class
Gain practical experience through internships
Required Courses Meet the Faculty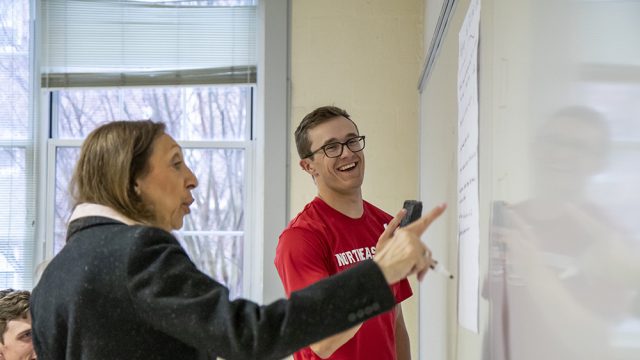 Master of Science in Human Resource Management
This program at Bridgewater College will prepare you to be an innovative strategic partner in the area of human resources in an increasingly diverse and international workplace.
Careers
Pursue careers in accounting, banking, entrepreneurship, human resources, real estate, sales, and more. Our alumni have landed careers Federal Reserve Bank, Rosetta Stone, Dell Computers, Nielson Builders, and Deloitte Consulting among others. Their career paths include:
Accountant
Branch Manager
Budget Specialist
Business Owner
Finance Specialist
Founder/Co-Founder
General Manager
Human Resource Associate
Marketing Manager
Operations Manager
Project Manager
Real Estate Agent
Sales Manager
Talent and Learning Specialist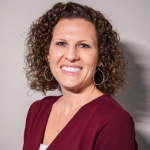 Jessica Burtner '06 is a Project Manager for Dominion Energy. Jessica believes athletics greatly contributed to her success at BC and later in life. Referring to her softball team, she said, "from my first day on campus, I already had a family I could rely on." She got her start in banking and gained valuable skills to move on to project management. "No matter what your interests are, there is a BC alum out there who had the same interests and can provide you with information, internships or career paths to help you achieve your goals."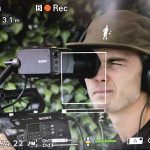 Andrew credits his involvement with student group StepUp for his ability to work with a team, knowing when to take charge and when to step aside to support others. This experience gave him the confidence to start his own media production company in Los Angeles, CA after graduating. "Looking back on course projects with classmates, I remember small details, little victories, moments in my life where I could be proud of what I did and what we did."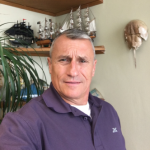 Jimmie completed an internship at a local printing company while working with BC faculty to create a forecast model that was later implemented at multiple facilities. After graduation, he worked as a Cost Accountant for Cargill while completing his MBA at James Madison University. Today, he manages a Cargill facility. "The BC curriculum was by far the most powerful and most influential factor in my success."
Clubs
Get involved in clubs that build professional knowledge, communication and leadership skills such as the Collegiate Entrepreneurs' Organization (CEO) and the Society for Human Resource Management. Be active in club administration, fundraising and event planning.
Collegiate Entrepreneurs' Organization (CEO), the premier entrepreneurship network in North America, promotes a spirit of entrepreneurship and encourages college students to seek opportunity through enterprise creation. In addition to regular meetings, Bridgewater CEO activities include bringing entrepreneurial guest speakers to campus, hosting "Getting to Know an Entrepreneur" events, sponsoring students to the national CEO conference in Chicago, supporting members to attend the Self-Employment in the Arts (SEA) annual conference and joint-venturing with the Greater Ashby Business Council of the Harrisonburg-Rockingham County Chamber of Commerce to host an annual Business Expo. Membership in CEO is open to all BC students regardless of major.
Advisor: Maria Lugo
Society for Human Resource Management (SHRM), BC Chapter, is part of a nationally recognized organization that's committed to advancing the human resource profession. Provides professional development for human resource professionals.
Advisor: Roslyn Vargas
Website: wp.bridgewater.edu/shrm
Questions? Contact Us!
Dr. Holly A. Caldwell-Taylor, Department Chair
540-828-5774
hcaldwell@bridgewater.edu