A new way to learn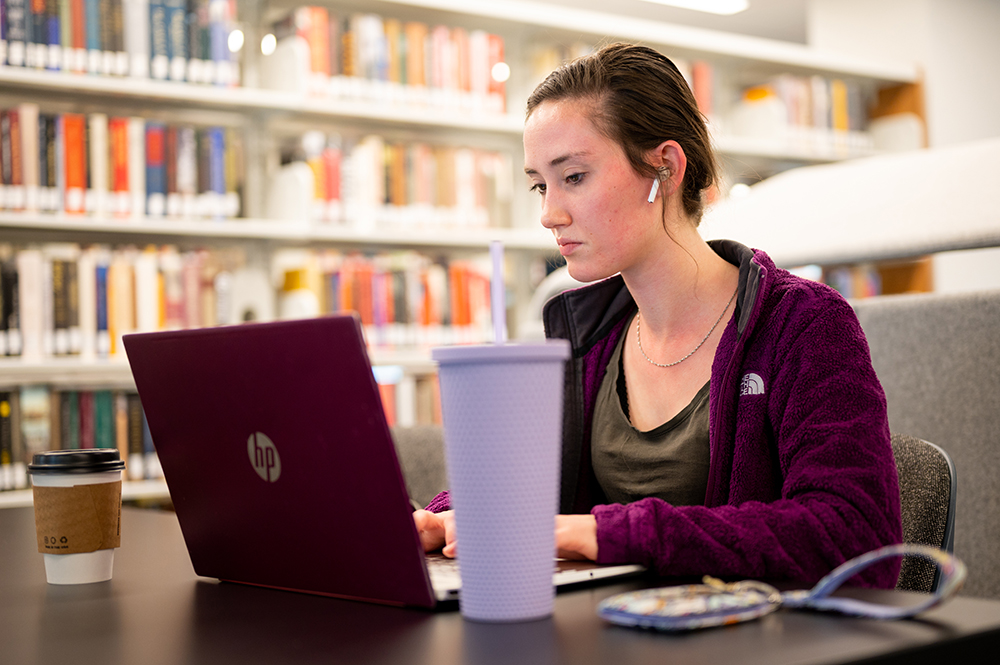 Mention your online degree to peers and potential employers a decade ago and you might have received some skeptical glances. Luckily, online learning has improved dramatically in recent years, both in quality and in reputation. While there is still some reason to be wary of online-only schools (the kind that run asynchronous correspondence-type courses for students who want to do their work on their own time), online degrees offered by established brick-and-mortar colleges are something very different: They give students the flexibility to get an education while working and/or raising a family but provide the credibility of a diploma from a traditional four-year institution.
What's more, the logistical challenges of online learning are have dramatically decreased since the COVID-19 pandemic.
"So much of our lives were thrust online because of the pandemic," says Digital Media Strategy Program Director Dr. Sam Hamilton. "All of our graduating classes to date have completed at least a portion of their coursework online. And all of our graduates have gotten jobs."
For the Master of Art in Digital Media Strategy (MDMS) program in particular, taking classes online actually mimics the work you'll do post-graduation—and that's intentional. While the program was originally face-to-face, the onset of COVID-19 in 2020 necessitated a switch to online classes. When the restrictions related to the pandemic were lifted, the department decided to pivot.
"One of our faculty members said, 'I was working as a graphic designer before coming [to teach at Bridgewater College], and this is how I did my work for 10 years running a graphic design shop,'" Hamilton says. "He was interfacing with clients via email, sending them proofs and even occasionally meeting with them via Skype." If this was how the industry already operated, Hamilton recalls considering, moving the program online-only would open up opportunities for even more students to complete it.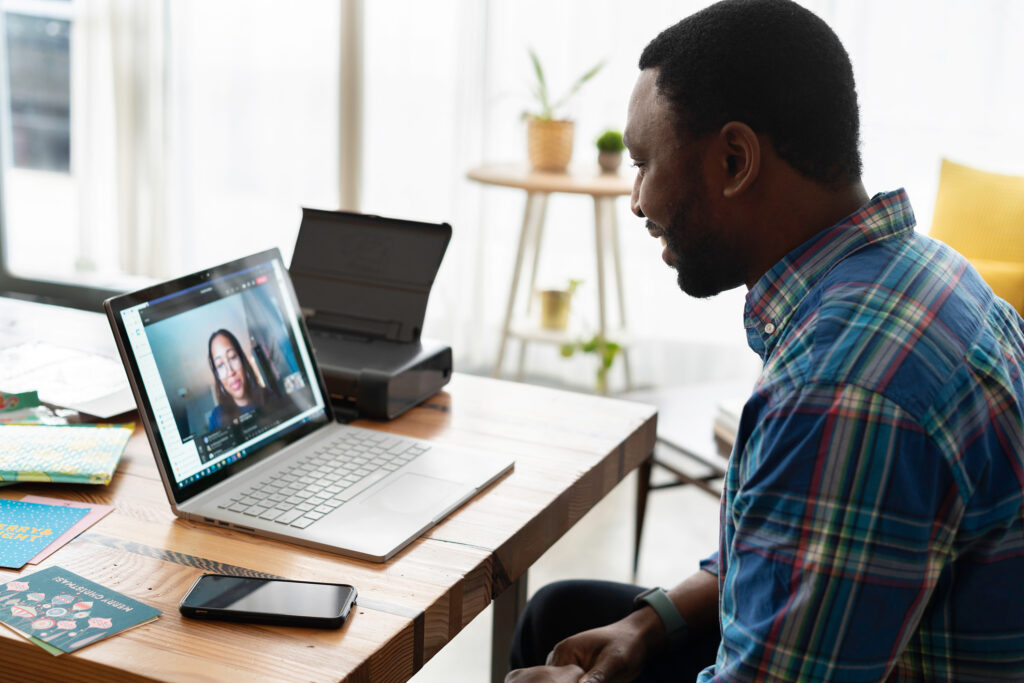 At Bridgewater College, the MDMS program can be completed in 33 credit hours, a full calendar year from June to May for a full-time student. Hamilton says he starts by advising students to think not about the job they'll get right after they graduate but to consider their broader five-year plan.
"Describe for me the nature of the work activity," Hamilton tells students. "Who are you working with? Where are you working? What are you doing? And can you get there? Is this program going to be a step on your path towards that five year destination?"
The hands-on professional program culminates in a project sequence, during which students choose a real-life local organization as their "client," and work with them to fulfill whatever need they've specified: web redesign, a social media campaign plan with audio/visual materials prepared, or a series of multimedia messages (videos, podcast, infographics) aimed at a specific audience.
If that sounds a lot like a project one might be assigned in a classroom setting, that's because Hamilton and his colleagues have worked hard to bridge the gap between in-person and online learning. Because the program is synchronous (meaning, everyone is in class together, learning at the same pace), they're able to maintain a more traditional classroom feel.
"Even though we're on a screen, we're all on the screen at the same time, interacting with each other, having a conversation," Hamilton says. "I'm able to meet with students individually. Students are able to coordinate and collaborate with each other. They're also able to meet with clients. It's just basically taking advantage of a new technology for communication. It's just another site for a classroom."
Environment is just one consideration when considering enrolling in an online-only program. The other is cost. Hamilton says that tuition-wise, the cost is the same as any other program (the only difference in your education is the physical setting—in-person classroom vs. virtual), but that the benefits are on the student's end. An online degree eliminates the need for a long commute to class, or even a relocation. A student taking online classes is able to hold onto a job where they're currently living and, for younger students, perhaps even continue living at home with their parents.
"Sticker price-wise, [obtaining a degree online] is no different than any master's program," Hamilton says. "But the actual cost—if you factor in things like staying where you're comfortable, your ability to hold onto a job if you've got one, or your ability to stay at home—it certainly cuts down on costs."
When deciding on a master's program, cost is always going to be a top factor. But Hamilton suggests a good way to look at it: What's the return on investment? In other words, pose these questions to yourself: "Am I going to be able to get a job when I graduate? Am I going to be able to recoup the expense of the program in the course of five years?" The MDMS program is geared toward professional development, which means there's a focus on helping students not only gain the skills they need for their chosen career, but obtain the job itself.
"If it was an academic master's program, if we were more focused on research, we'd be asking, what are the quality of the research projects? Are you able to transition from this program into a Ph.D.?" Hamilton says. "But we're trying to get people good jobs. And the fact that we've been able to do that—and the fact that we were able to do that in 2020 and 2021, when the economy was struggling—that's a feather in our cap."