Tuesday, March 7, 2023
10 a.m.–1 p.m.
BC's Forrer Learning Commons
318-350 E. College Street
Bridgewater, Virginia 22812
Students are encouraged to register in advance for the Career & Internship Fair. Registered students will receive updates on participating employers and detailed instructions on how to successfully navigate the event and network with employers and recruiters.
Student Check-in
Students must check-in for the Career & Internship Fair upon arrival to the Forrer Learning Commons in order to participate (and for seniors to get FILA 450 credit for their attendance). At check-in, you will receive a nametag and a list of participating employers and a diagram of where they're located throughout the FLC. Student check-in will be located at a table just inside the main FLC entrance.
About the Career & Internship Fair (FAQs)
See the Bridgewater College Career & Internship Fair Handshake page for the most up-to-date information on participating employers.
On Handshake, you'll find names and descriptions of the participating employers as well as recruiter contact information so you can reach out and introduce yourself before the event!
See Career & Internship Fair Table Map for a list of employers and where they will be located in the Forrer Learning Commons. The "List of Employers by Major" document provides a guide for students to use while navigating the Career Fair. Not sure which employers to speak to? See which employers have expressed an interest in meeting students from your major!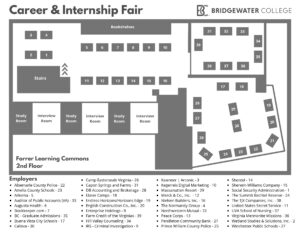 Attend a Center for Career Development Workshop! Just some of the workshops that will help you prepare for the Career Fair are:

Interviewing Basics
Resume 101
Successfully Navigating a Career Fair
Dressing for Success

Sign up for a resume review appointment with a Center for Career Development staff member! Your resume is an essential tool for your job and internship search and one of the best ways to make a great first impression with recruiters. Make an appointment on Handshake.
Check out this Career Fair Prep Guide and work your way through the recommended "To Do" items.
It's better to be overdressed than underdressed, so a suit is always the best choice for attire (though khakis and a nice shirt are appropriate if you don't own a suit).
Simple colors like navy, dark gray, or black are always appropriate choices.
Your clothing should be clean and wrinkle-free. Don't forget to remove tags and tacking stitches from new items!
Use cologne and perfume sparingly.
Read more tips on dressing professionally HERE .
Bring at least 10-15 copies of your resume, depending on the number of companies that interest you.
Keep your resume in a convenient place, such as a padfolio or nice folder.
Bring pen and paper for notes and contact information.
Breath mints and hand sanitizer are also suggested.
Yes, younger students are encouraged to attend the Career & Internship Fair:
Many participating employers are offering summer jobs and internships that are ideal for younger students – if you're a freshman or a sophomore, it's absolutely worth attending the Fair so you can check out these resume-building opportunities!
It's important to attend the Career & Internship Fair so you can practice speaking to employers/recruiters and start learning all about the job and internship opportunities available to you. When it's time to search for these opportunities, you will have a better idea of what your professional interests are and know which organizations are a good fit!
Prepare an ELEVATOR PITCH to share with recruiters. This is a one-minute summary to introduce yourself, share your interest in the organization, and describe what you have to offer to an employer.
Include in your elevator pitch:

Where you are now (your degree, program, year in college).
Where you have been (your career-related experience).
Where you are going (your future goals).
Read more elevator pitch tips HERE.

Find the list of attending employers on the Handshake Career & Internship Fair event page and conduct research on each. Keep an open mind, don't just focus on companies that are familiar. Go to each company's website and look for "About Us" and "News" to read about the company, their mission, and current projects/clients. Want to really impress recruiters? Prepare a few questions to ask the representatives you meet at the Career Fair.
Ask for the recruiter's business card and/or contact information. Thank each person for meeting and talking with you about their organization's opportunities. Prepare to follow-up with the recruiter (via email) after the Career Fair.
As long as you've checked-in once, then you're welcome to come and go as your class and/or work schedule allows.
Make sure to save your name tag for your return visit to the career fair! If you lose it or need another, stop by the check-in table to get a fresh name tag before speaking to employers.