Bringing the hype at BC
Join Bridgewater College's new Screamin' Eagles Marching Band! You can be a member of the Screamin' Eagles and help us build an important tradition on campus!
You'll not only get to perform at home football games in the fall, you'll also travel to some away games with the team, join in Homecoming week events, and participate in local parades and festivals. And you'll have the opportunity to be part of the basketball pep band in the spring!
Want to learn more about the Screamin' Eagles? Fill out our interest form below.
For current and incoming students ready to officially join the marching, submit an application.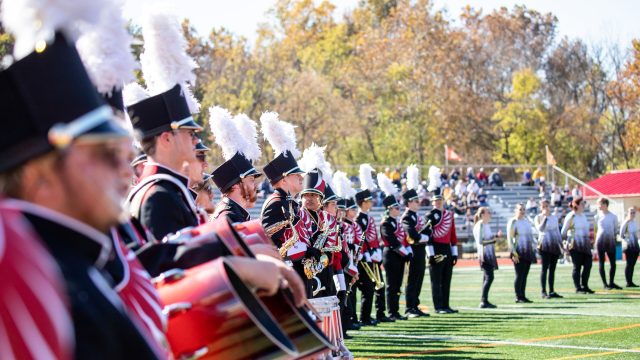 The Screamin' Eagles Marching Band features:
Brass and woodwinds
Color guard
Front ensemble
Full drumline
Student leadership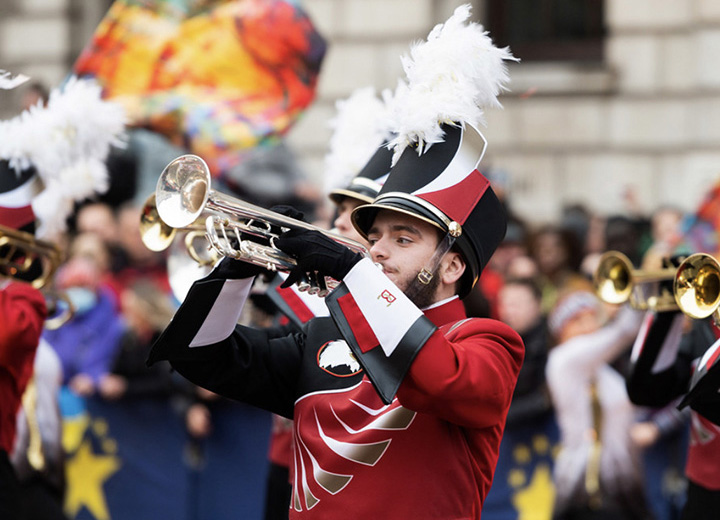 Scholarship Auditions: Open to All Students
Open to students in any major, the Screamin' Eagles Marching Band also features scholarship opportunities for participating students. Find out more about music scholarships and auditions at bridgewater.edu/musicscholarships.
FAQs
Yes! All members of the BC Marching Band need to be enrolled in MUS-449. If you have a conflict with enrolling, please reach out to Prof. Flowe or Dr. Carrillo.
You will receive a syllabus for the course on the first day of classes. The ability to participate in rehearsals and performances will be calculated in the grade.
Fill out the BC Marching Band Uniform Measurement Form. To complete measurements, you can borrow a measuring tape from Dr. Carrillo in the band room. We will announce a date, time, and place for you to pick up your uniform. You will be expected to keep your uniform in your dorm/apartment throughout the season. It will be your responsibility to keep the uniform in good condition and keep up with all garments (hat, plume, coat, bibs, etc.)
We will send another link when we are ready to take measurements for the color guard uniform. Stay tuned.
The school owned instruments for use in marching band are the following: Sousaphones, Mellophones, Marching Baritones, Drumline/Front Ensemble, Color Guard. Contact Dr. Carrillo if you need a smaller woodwind instrument to check out.
While there are not marching band specific scholarships, there are scholarships for musicians at Bridgewater. You don't have to be a music major to receive scholarships. All marching band musicians are encouraged to apply.
The BC music department will pick up the tab for almost all costs of being a member of the Screamin' Eagles Marching Band, including your meals and residence hall expenses during our required pre-season band camp.
Over the summer we will try to deliver music electronically when possible. Other music will be distributed during band camp.
For our first year, gloves will be provided by BC.
For shoes, we want you to have a black shoe similar to what you probably wore in high school marching band. If you still have your marching band shoes, bring them to wear! If you don't have black shoes, you can order the Drillmaster shoe from McCormicks or purchase something similar from another vendor.
Blue Ridge Community College Screamin' Eagles Marching Band Agreement
BRCC students can join the BC Screamin' Eagles Marching Band and perform at all home football games and at various other campus and community events throughout the fall semester. All students with previous experience in brass, woodwinds, percussion and color guard are welcome to participate in the marching band.
To be eligible BRCC student must: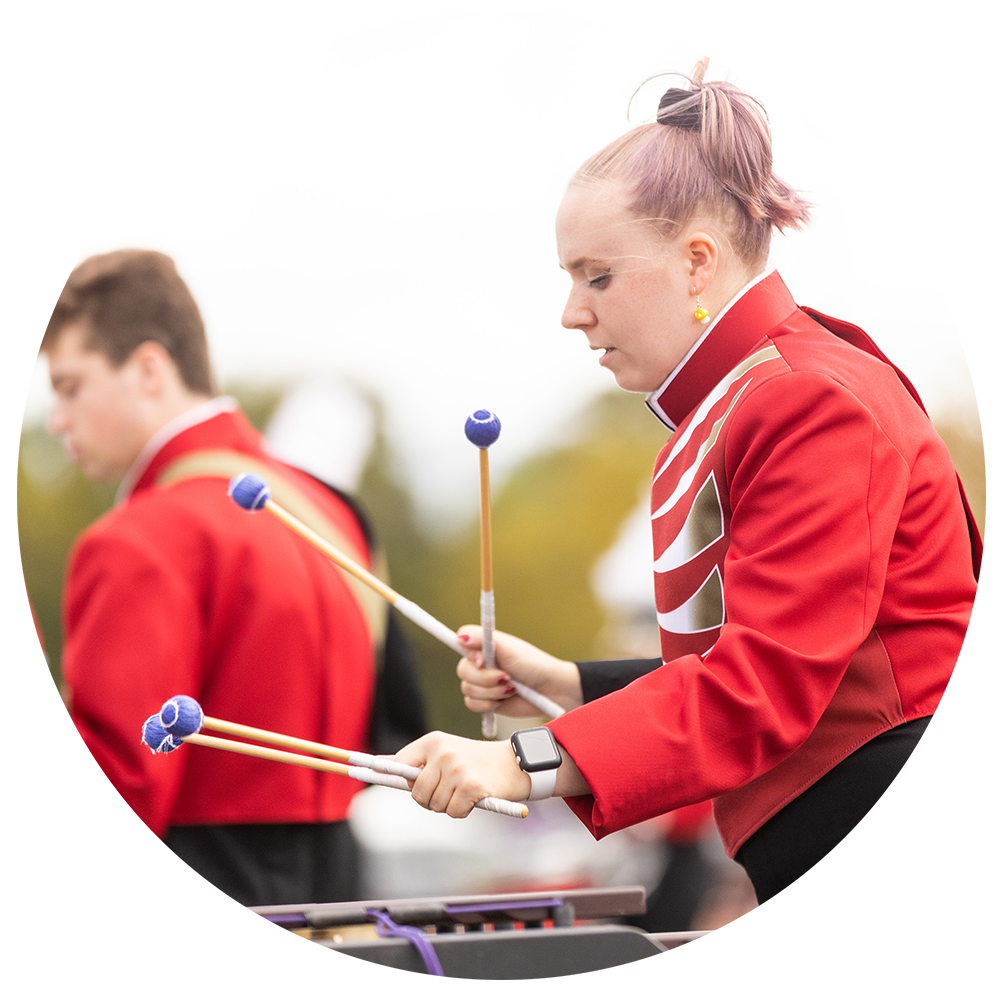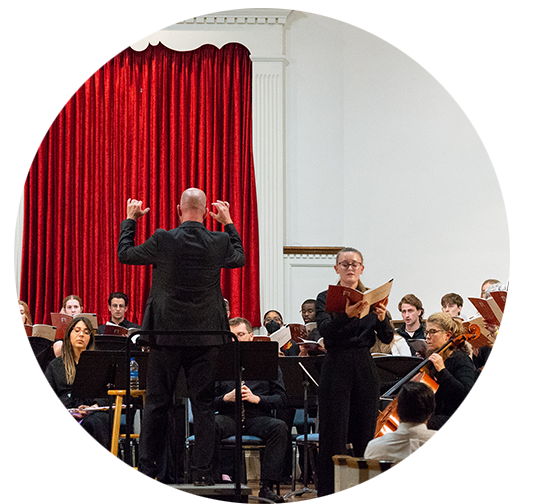 BC Music Department
BC has a rich history of musical groups and ensembles. Music ensembles at BC, which include Symphonic Band, Jazz Ensemble, Chamber Strings, Concert Choir, Chorale, and chamber ensembles, are open to students from any major and have always welcomed diverse community of Eagles from all backgrounds and interests. Alumni often enthusiastically return to perform with students at Homecoming, a tradition which will extend to marching band in future years.
Interested in teaching music? Want to be a band or choral director for a high school in the future? Check out Bridgewater's major in music with teacher licensure.
You'll be able to focus on music pedagogy in your music major as well as being part of BC's excellent Teacher Education Program. When you graduate, you'll have a degree in music along with qualifications to teach music at any grade level (PreK-12).
Learn more about studying music education at BC by contacting Dr. Vimari Colón-León at vcolon-leon@bridgewater.edu.
Music (and Football!) at BC
The new marching band has roots in a strong and enthusiastic pep band that started in the early 1990s. The Eagles football team also continues to excel, with an ODAC championship and return to the NCAA Division III playoffs in 2019.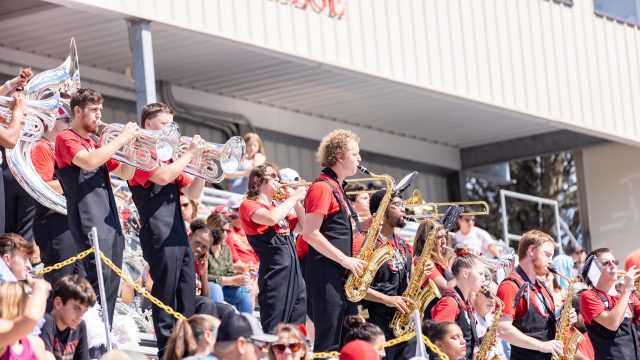 Want to learn more about the Screamin' Eagles? Let us know!
Fill out this form and we'll send you information about Bridgewater College's Screamin' Eagles Marching Band and upcoming admissions events. If you have specific questions, contact the Office of Admissions at admissions@bridgewater.edu
Questions? Contact us!
Meet the Leadership Team.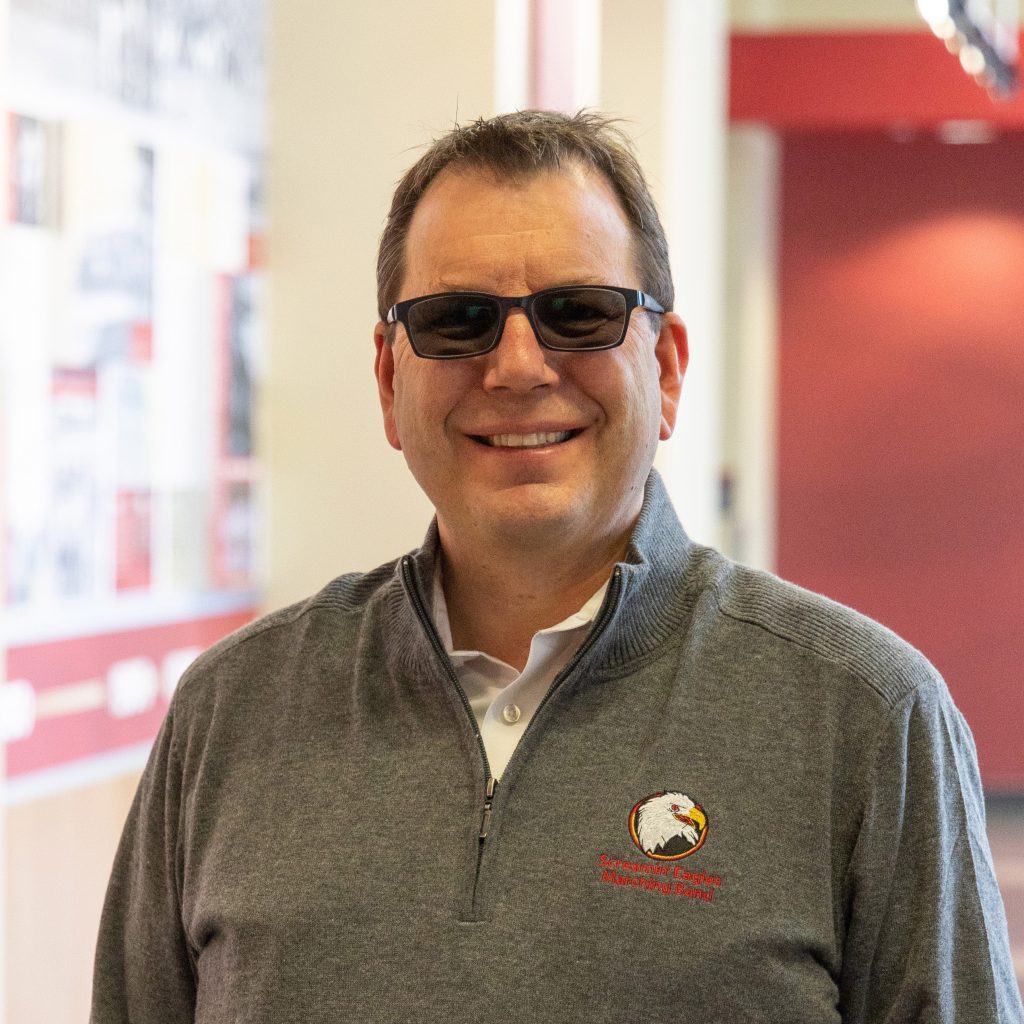 Prof. Barry Flowe
Director of Athletic Bands and Instructor
bflowe@bridgewater.edu
540-828-5304
Director of Athletic Bands Barry Flowe oversees the Screamin' Eagles Marching Band, in addition to teaching courses in music education at Bridgewater. He also oversees the basketball pep band.
Flowe brings three decades of experience leading middle school, high school and college bands, including 19 years as Pep Band Director at Randolph-Macon College, in Ashland, Va., and 10 years as Director of Bands at Patrick Henry High School, also in Ashland.
Flowe received his bachelor of music with a concentration in instrumental music in K-12 from Old Dominion University. He obtained his master of curriculum and instruction from Virginia Tech.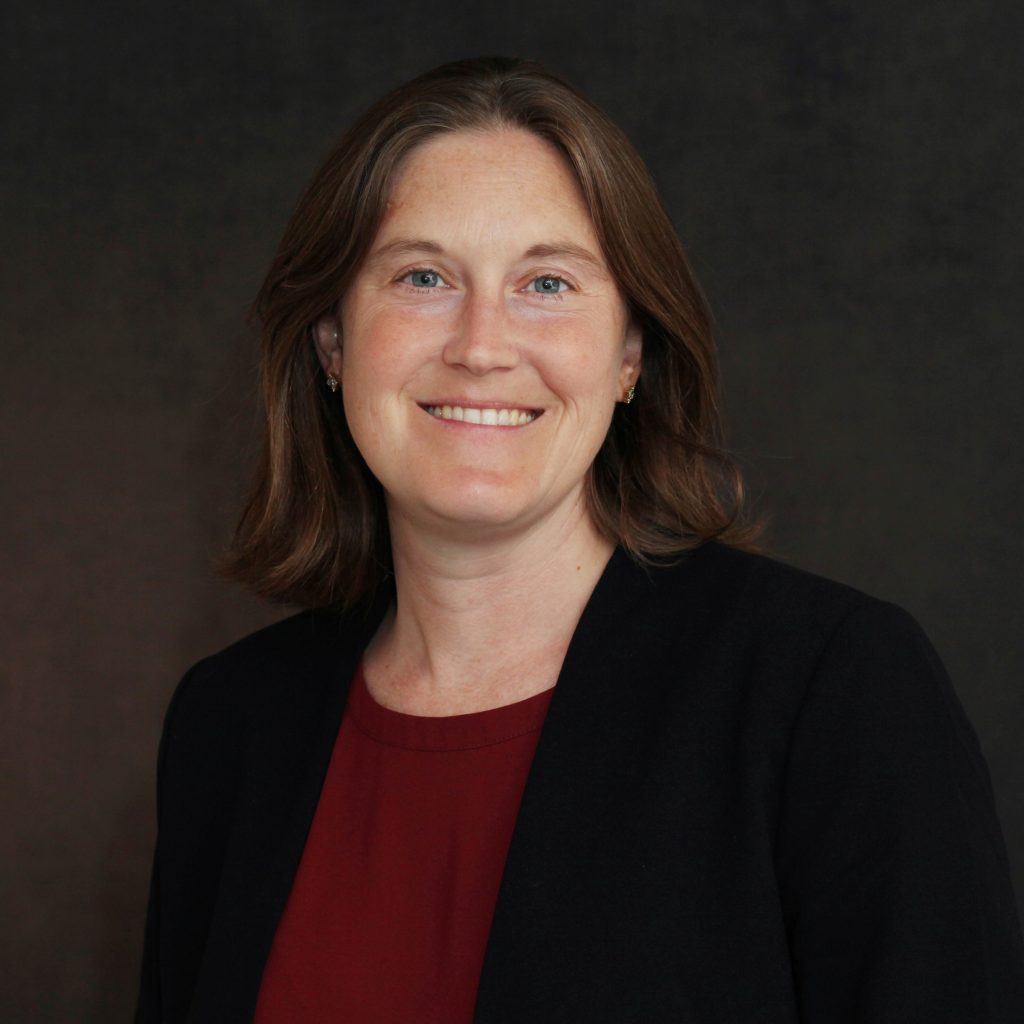 Dr. Christine Carrillo
Director of Instrumental Music, Associate Professor and Department Chair
ccarrill@bridgewater.edu
540-828-5301
Carrillo is Bridgewater College's Director of Instrumental Music, Associate Professor and Department Chair. She is director of the Symphonic Band and Jazz Ensemble, teaches applied trumpet lessons and teaches courses in conducting and music theory.
Carrillo received her bachelor of music with a concentration in trumpet performance and a bachelor of music education with a concentration in instrumental conducting from the University of Illinois. She obtained both her master of music and doctor of musical arts in trumpet performance from The University of Texas.
Prof. Jon Wilson
Drumline Instructor
Wilson, a 2017 graduate of Bridgewater College, is currently the Band and Choir Director at Shelburne Middle School in Staunton, Va.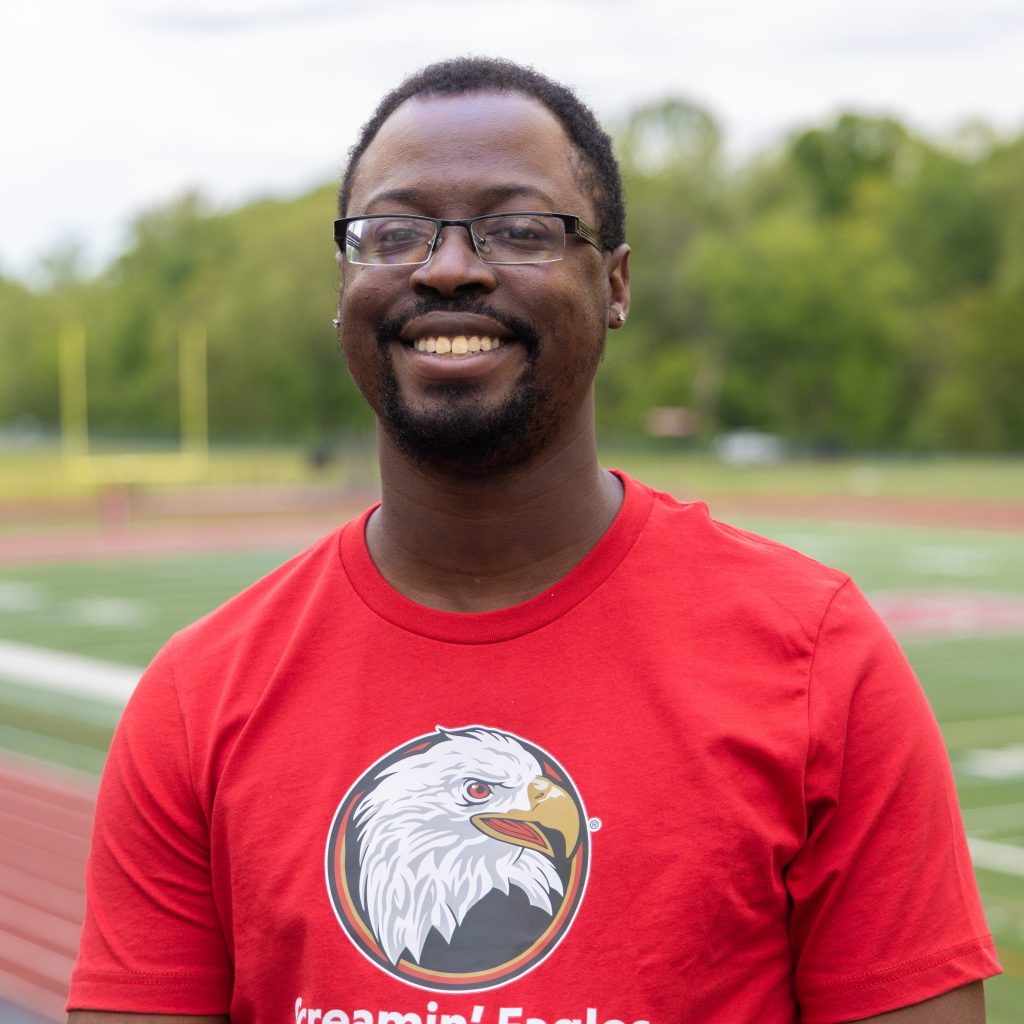 Prof. Brandon Gray
Adjunct Color Guard Instructor
Gray, a native of Richmond, Va., has been teaching color guard for more than a decade with James Madison University's Nuance winter guard and with the Fort Defiance High School marching band.