Your path to becoming an engineer
BC's bachelor of science in engineering prepares you for a challenging and rewarding career in mechanical engineering, robotics, aerospace, electrical systems and technology, and manufacturing. You will graduate with career-ready skills in 3D modeling, mathematics, computer-aided design and fabrication, electronics and control systems, and mechanical design.
The program is designed for maximum flexibility, giving you the opportunity to explore different aspects of engineering through your upper-level engineering courses. The engineering major at BC is designed to meet accreditation standards set by the Accrediting Board for Engineering and Technology (ABET).
What to Expect
Extensive coursework in mathematics, science and engineering.
Choose an optional concentration in mechanical engineering or mechatronics.
Small classes that provide opportunities to collaborate with faculty and classmates.
Courses
BC's engineering program allows you to start practicing engineering skills in a hands-on environment right away. In your first year, you will take a two-semester Foundations of Engineering course sequence that introduces you to professional tools in computer-aided design and is centered around 3D printing and fabrication.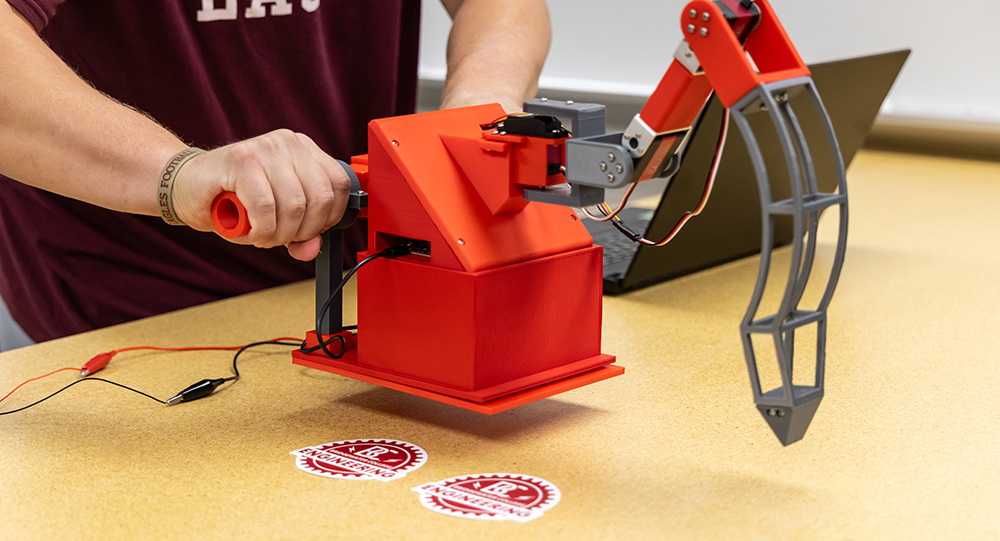 Courses in electronics (analog and digital), control systems, signals, mechatronics
Lab courses in mechanical engineering: materials, mechanical design
Upper-level theory courses appropriate for mechanical engineering: statics, dynamics, vibrations, heat and mass transfer, thermodynamics, fluid mechanics
An integrative senior capstone experience featuring hands-on projects guided by engineering faculty
Required Courses Meet the Faculty
---
Connecting you to your future
The bachelor of science in engineering blends experiential and theoretical learning to give you the skills needed for your future career. You will be using professional tools and practices used in the discipline throughout the four years. By the time you graduate, you will have a strong foundation of critical thinking and problem-solving abilities as well as technical skills.
Graduating students will obtain placement in companies or organizations that allow them to use the skills and practices developed in the Engineering program at BC, or continue their education at a more advanced level
By participating in professional development opportunities, further education, or trainings, graduates will continue to expand their knowledge after graduation, demonstrating that they are adapting to the changes and growth of their profession.
Graduates will demonstrate their knowledge and skills acquired through Bridgewater College's liberal arts curriculum, which includes critical thinking, working collaboratively to achieve shared goals, and professional communication.
an ability to identify, formulate, and solve complex engineering problems by applying principles of engineering, science, and mathematics.
an ability to apply engineering design to produce solutions that meet specified needs with consideration of public health, safety, and welfare, as well as global, cultural, social, environmental, and economic factors.
an ability to communicate effectively with a range of audiences.
an ability to recognize ethical and professional responsibilities in engineering situations and make informed judgments, which must consider the impact of engineering solutions in global, economic, environmental, and societal contexts.
an ability to function effectively on a team whose members together provide leadership, create a collaborative and inclusive environment, establish goals, plan tasks, and meet objectives.
an ability to develop and conduct appropriate experimentation, analyze and interpret data, and use engineering judgment to draw conclusions.
an ability to acquire and apply new knowledge as needed, using appropriate learning strategies.
Through rigorous coursework in mathematics, science, and engineering, our students are prepared for the challenge of practicing engineering in a world that needs highly qualified professionals with a commitment to social responsibility and ethical practices. Our program emphasizes professional responsibility, mastery of foundational knowledge and professional tools, and experiential learning. Students will gain practice in design thinking, fabrication and prototyping, and collaboration through hands-on projects.
---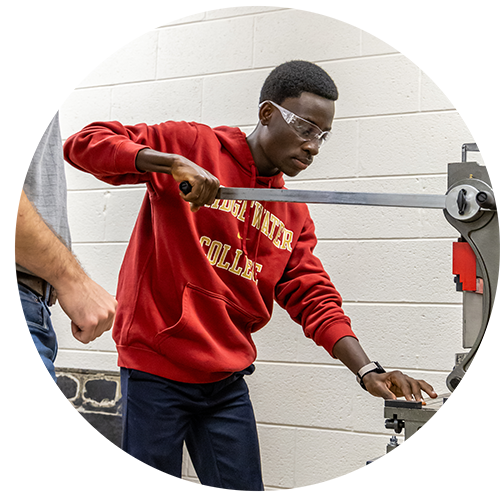 Careers
BC prepares you to be a better critical thinker, professional and engineer. The environment and hands-on experience at Bridgewater provide you with the skills employers want.
Mechanical engineering
Automation engineering / mechatronics
Nuclear engineering
Aerospace engineering
Automotive design
Computer-aided design and 3D modeling
Experience with computer-aided manufacturing
Electronics skills with digital and analog circuit design
Additive fabrication (3D printing)
MATLAB
Computer programming
Leidos
Boeing
Northrup Grumman
Lockheed Martin
Dewberry
Huntington Ingalls Industries, Inc.
Questions? Contact Us!
Dr. Deva O'Neil, Department Chair
540-828-8004
doneil@bridgewater.edu